Hello and welcome to BayFM
BayFM is a meeting place for people and ideas, connecting the Byron Shire community and the wider world. We represent the many views and voices of our unique region.
For over 30 years BayFM has soundtracked Byron life, providing a wide range of entertainment and information for everyone. We celebrate diversity, inclusion and respect in our programming. We remain independent and objective in a world increasingly beset by vested interests and 'fake news'. Our award-winning news team tells it how it is..
Like other community radio stations, BayFM is a not-for-profit media organisation. All our broadcasters and most support crew are unpaid volunteers, doing it for the love. We receive no guaranteed funding from any government or regional body, so we rely on the generous support of our community. If you're a subscriber, donor or sponsor, many thanks – we can't do it without you!
A bit of BayFM's history
We've been on air for over 30 years, but the roots of BayFM reach back even further. Along the way, hundreds of people have been involved with shaping and sustaining our little station. Here are some of the milestones.
1987
BayFM is established at a public meeting held in December at the Byron Bay Community Centre.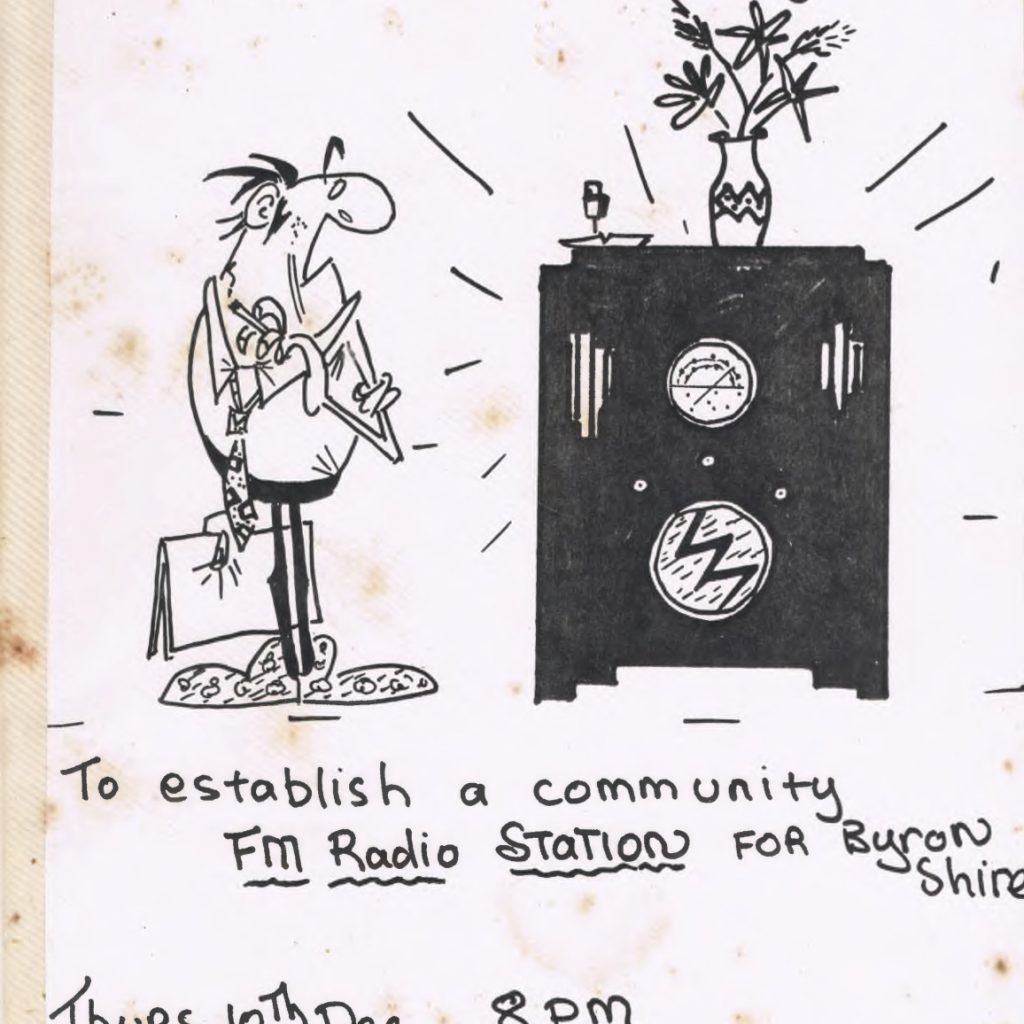 1988
The proposed radio community radio station gathers local support to raise $50,000 for the station and transmitter. That's nearly $125,000 today – a lot!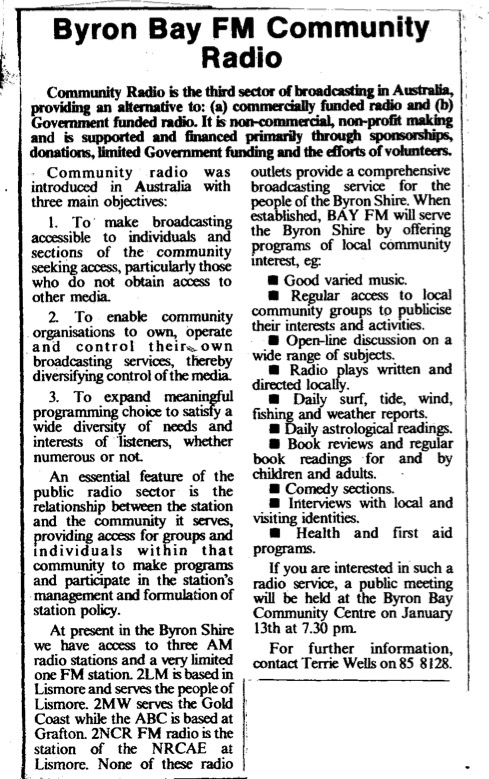 1989
BayFM gets its broadcasting licence. We crack into some serious fundraising with raffles, trivia nights, backgammon tournaments and a mock broadcast at Railway Park in Byron Bay.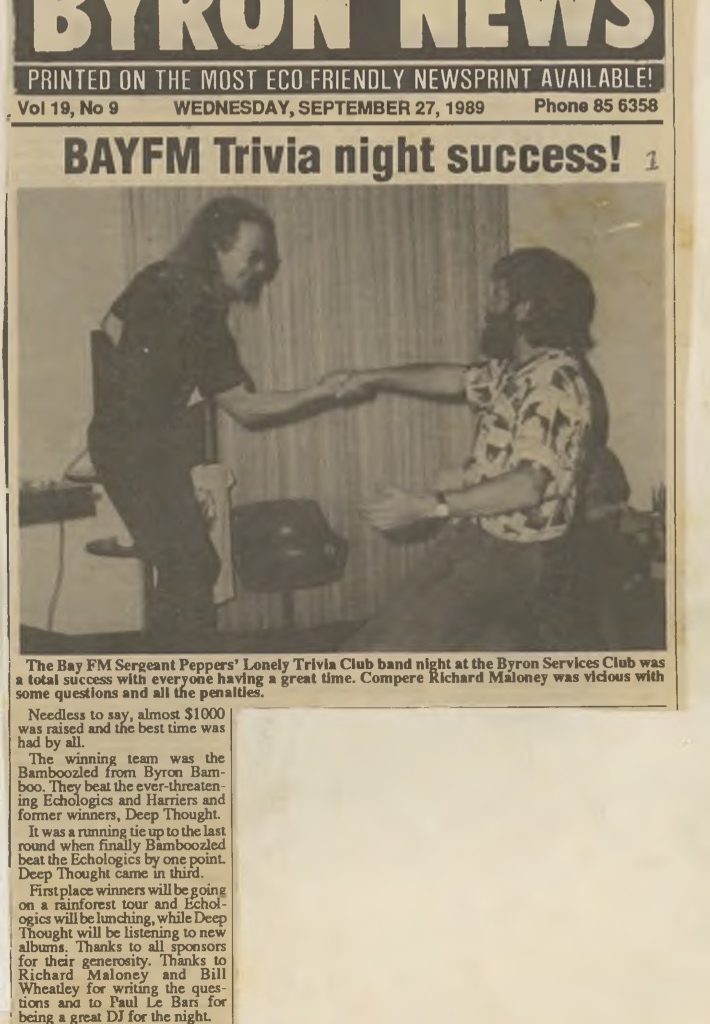 1990
1 April 1990 is BayFM's first test transmission broadcasting on 96.9MHz from six different locations over an eight day period. More test transmissions follow over the next three years. BayFM opens its office at the Epicentre in Byron Bay. More fundraising!.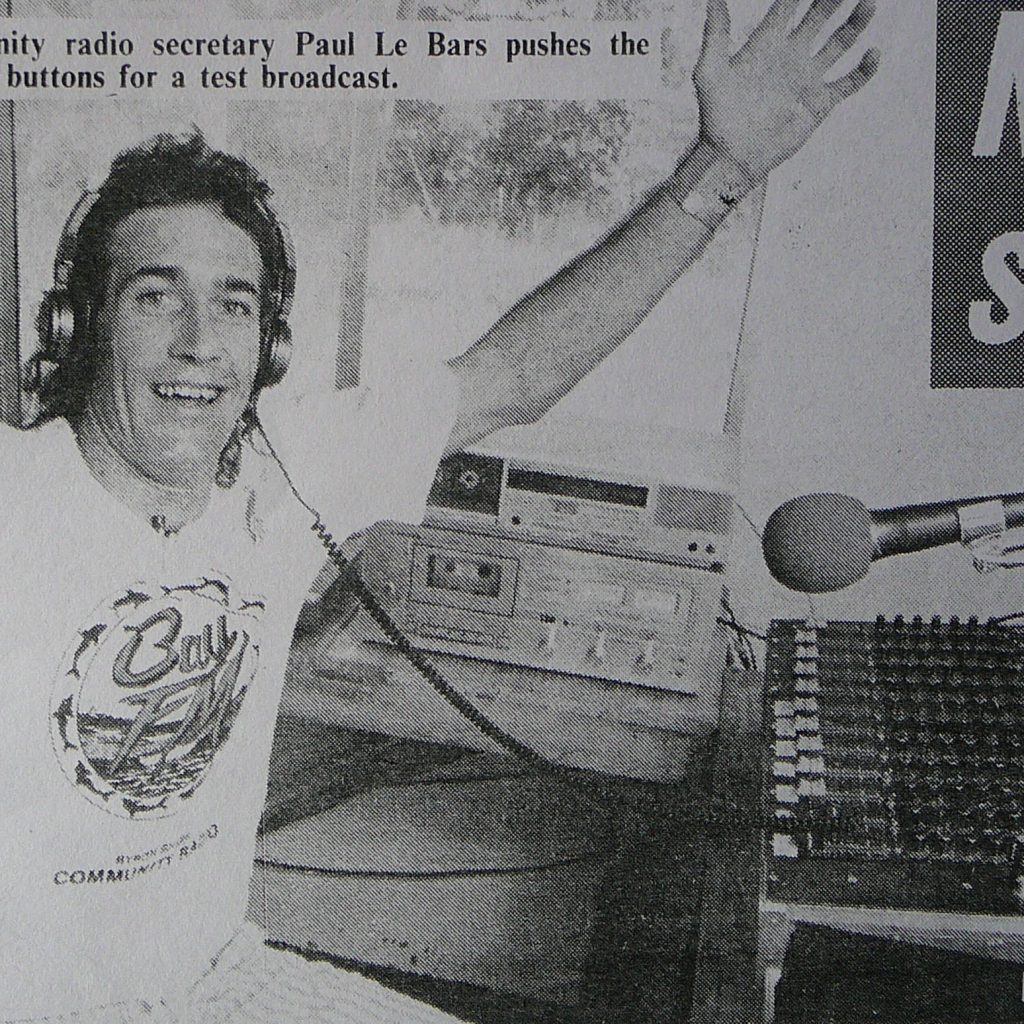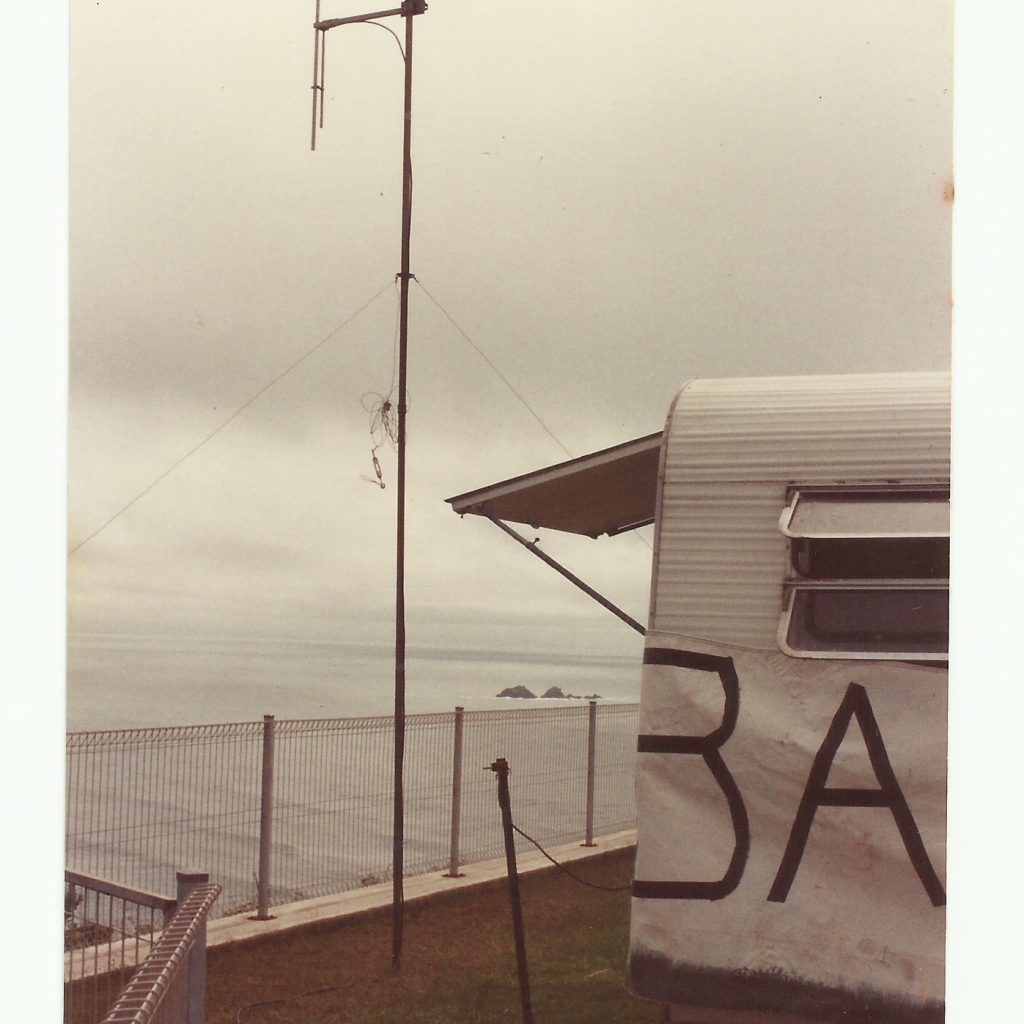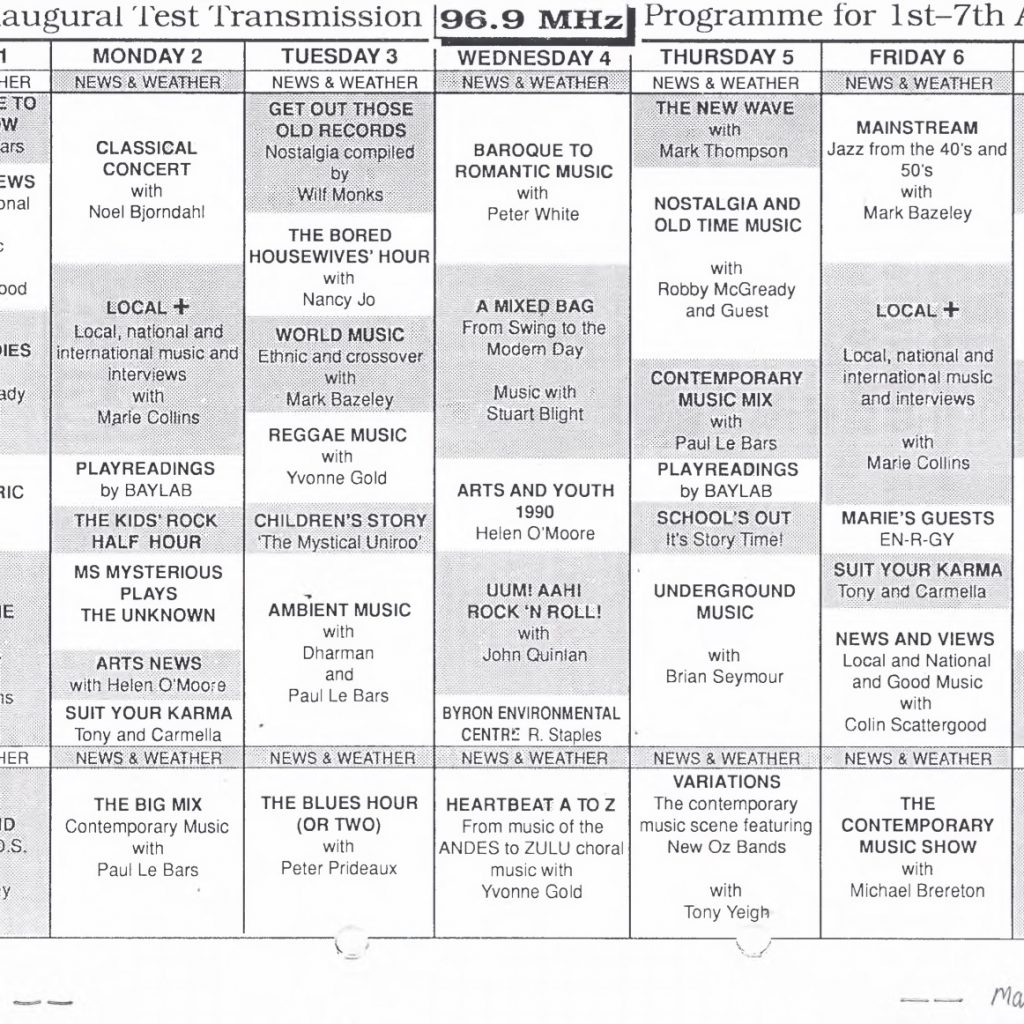 1991
It's a waiting game for BayFM as the station is now on the Department of Transport and Communications short list to get a full Community Radio Licence in 1993.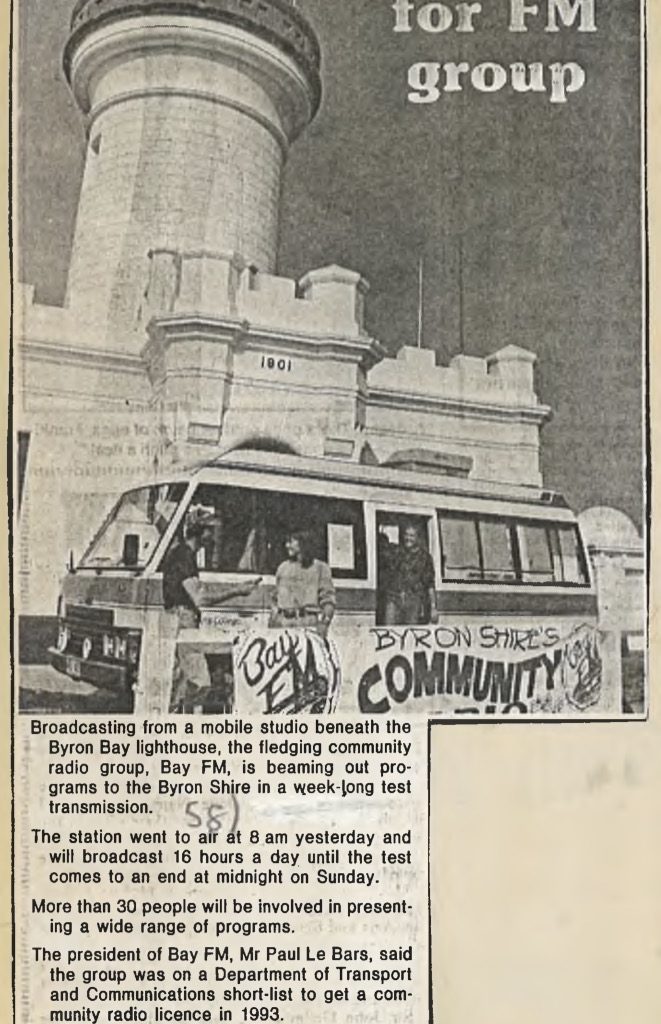 1992
A home at last for BayFM. The station bought a relocatable building, office and studio equipment to be erected behind the Community Centre. The home was known as The Shed.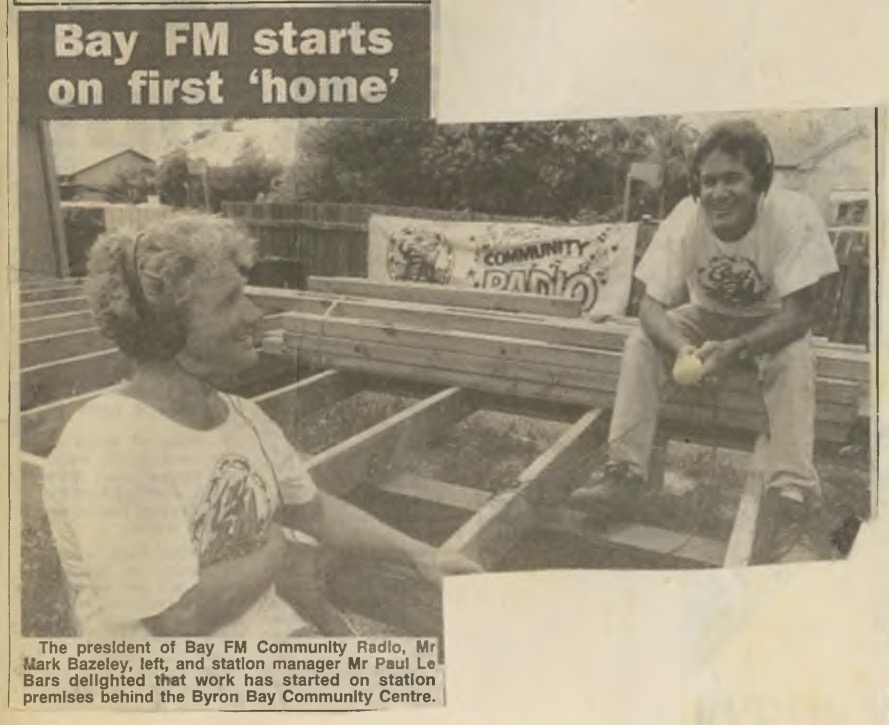 1993
The Australian Broadcasting Authority grants BayFM the first and only Australian "Drop-Through" Licence; permitting the station to broadcast 24 hours a day, seven days a week.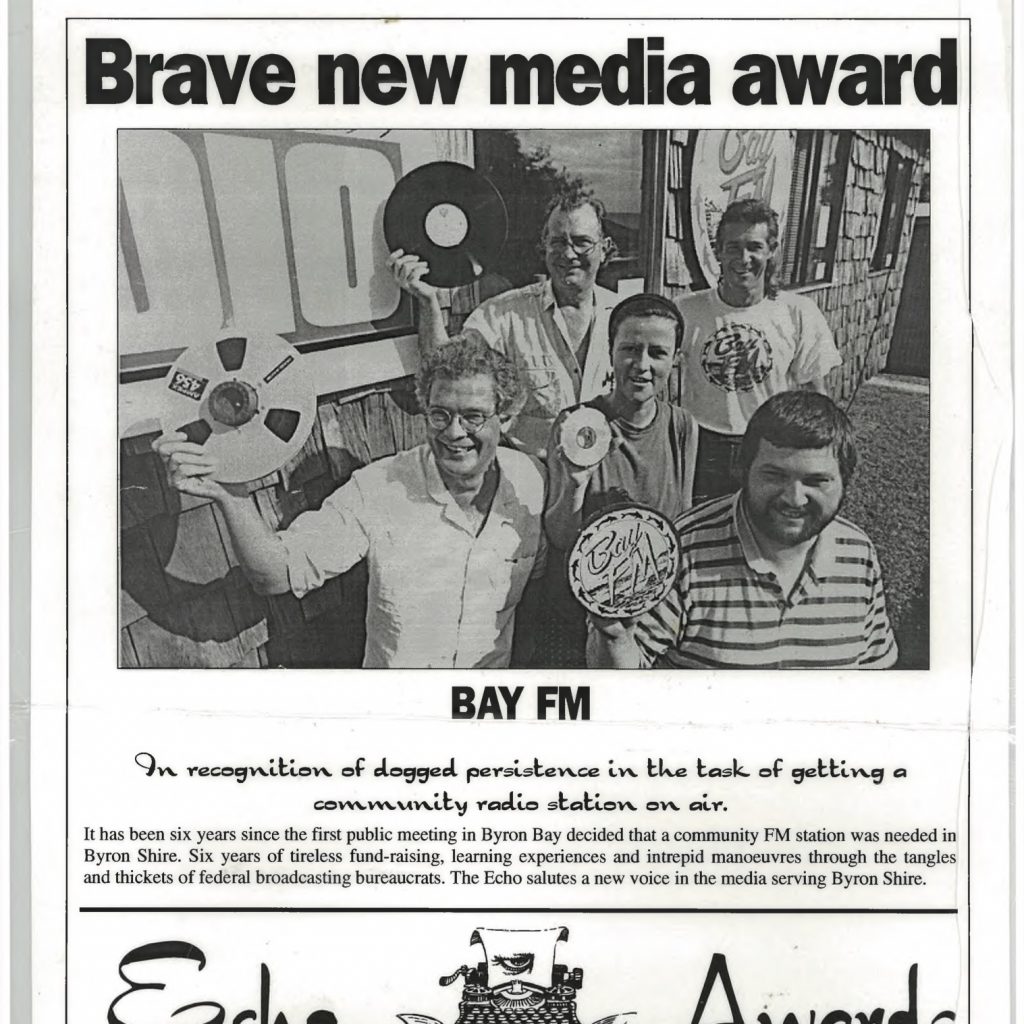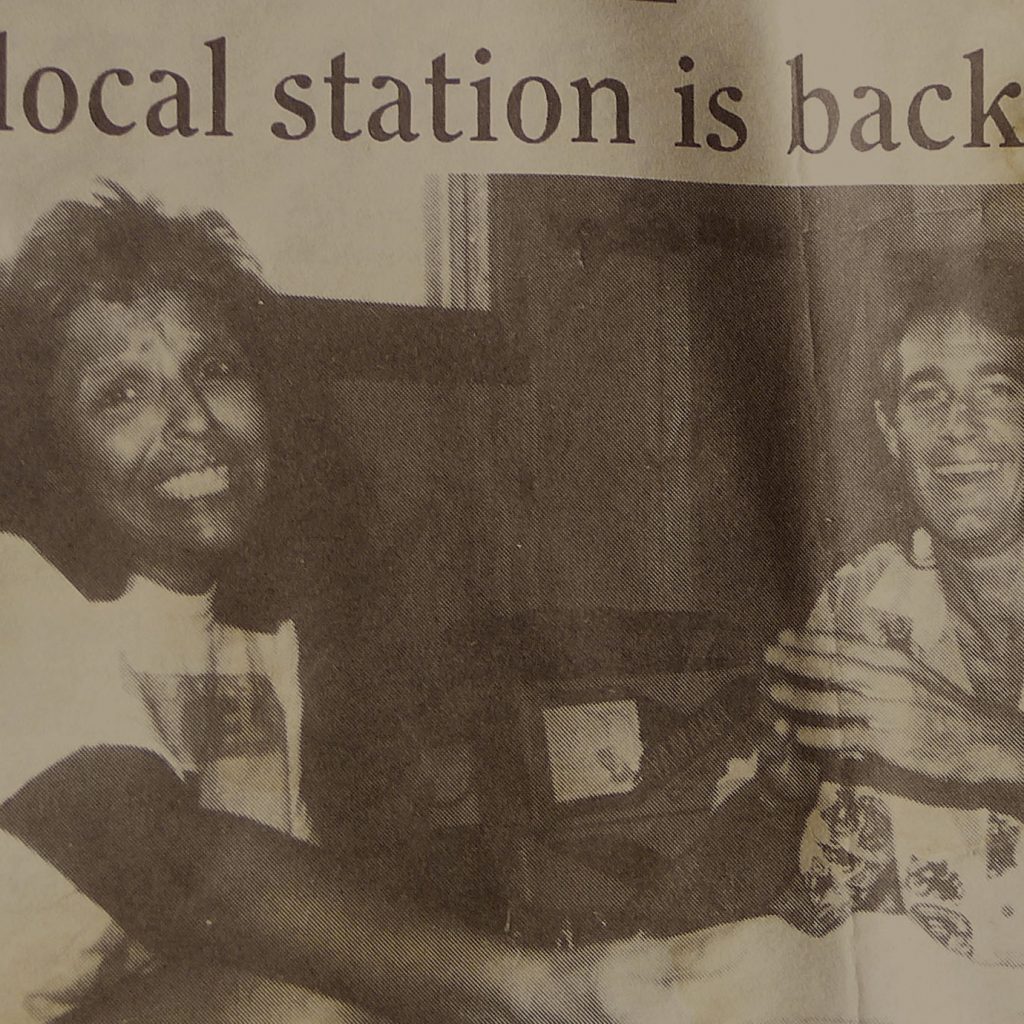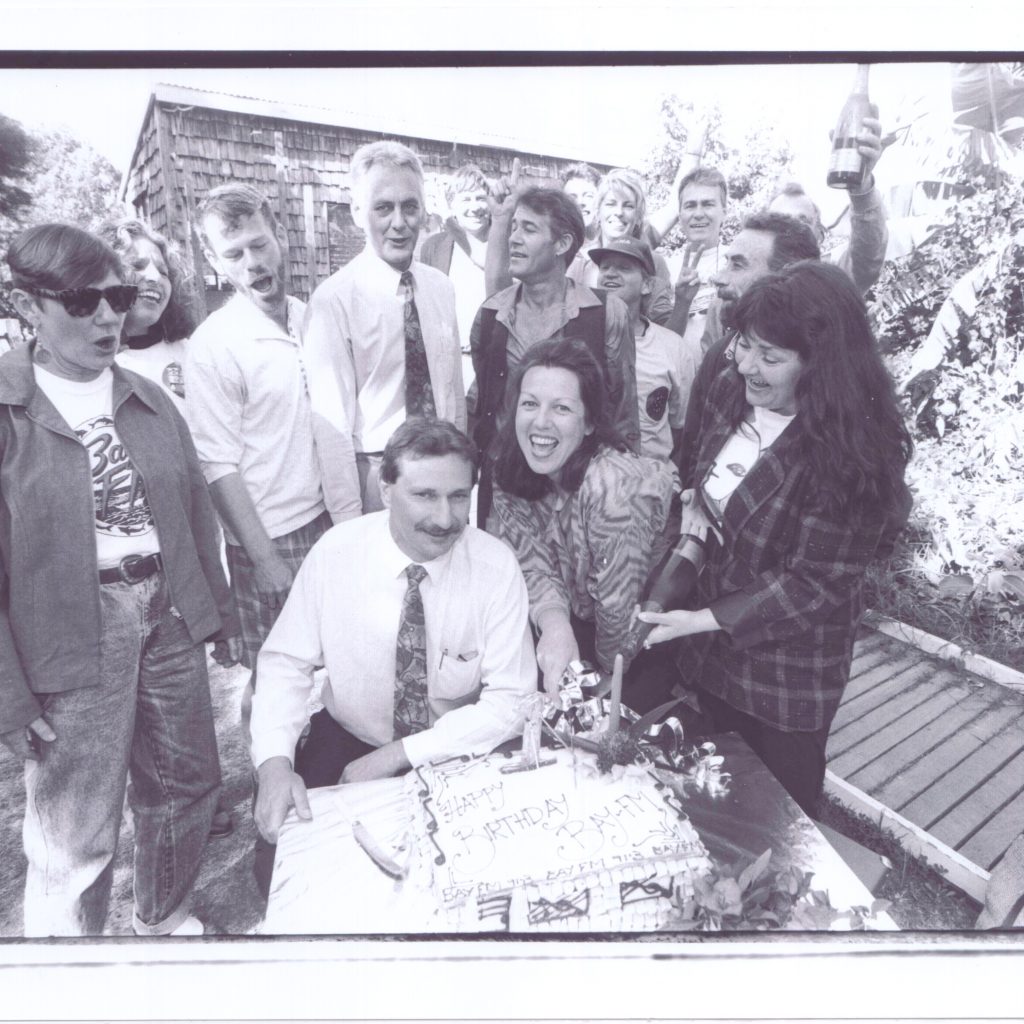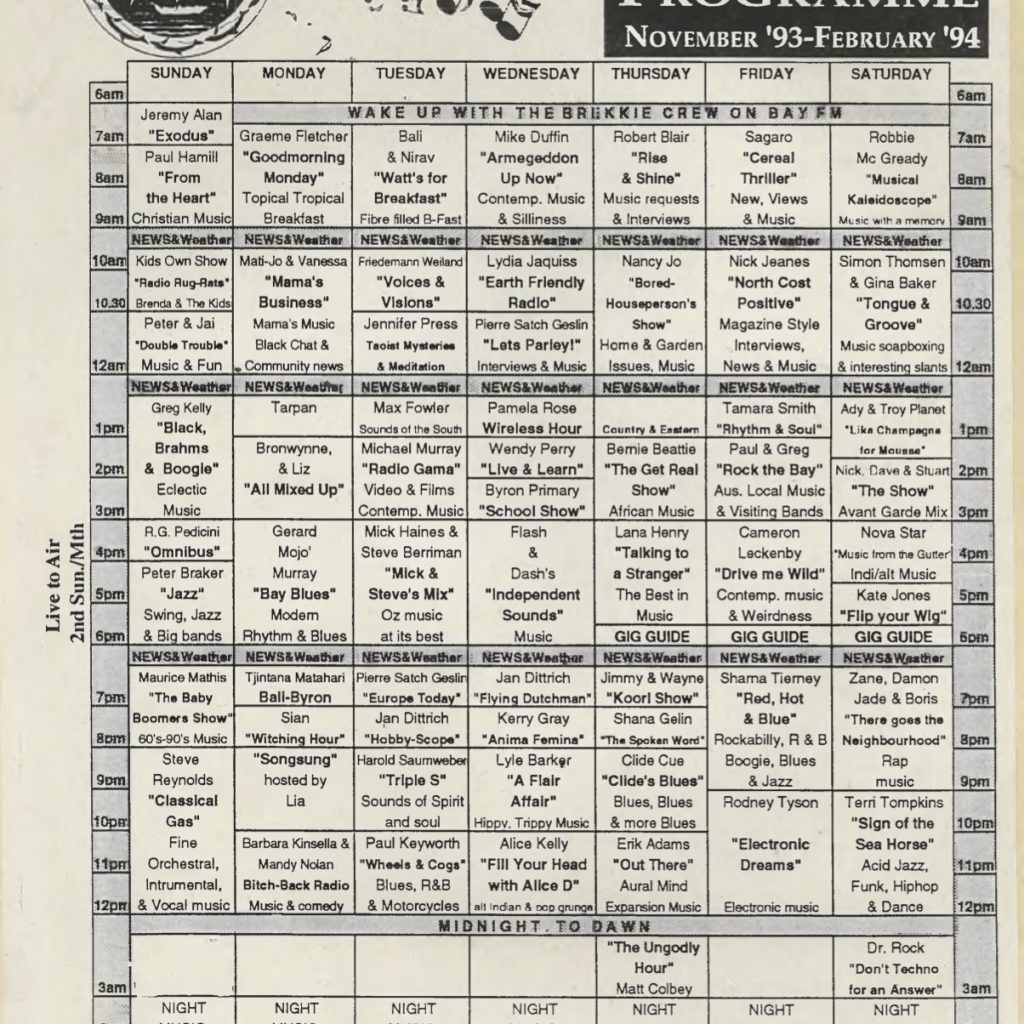 1994
BayFM's programming included a student talk radio show and some real characters like the post new age psychics Rodney and Richard on Snap, Crackle Pop breakfast show.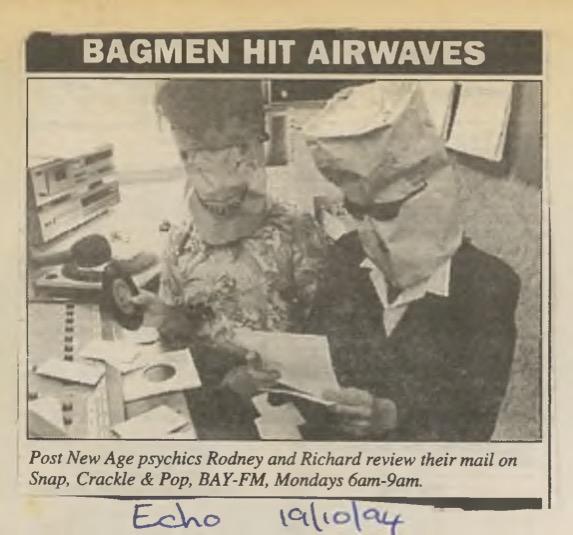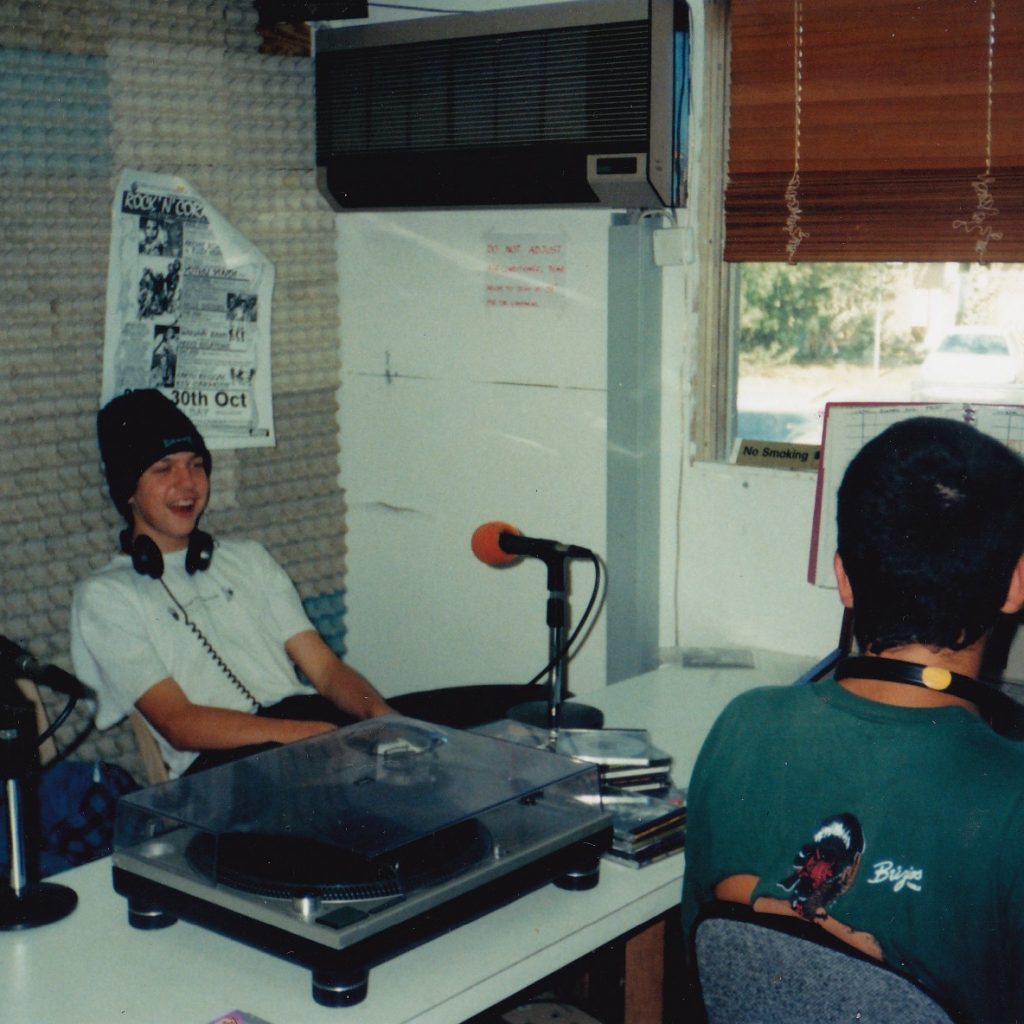 1995
It's BayFM's third year as a fully fledged community radio station with a packed program schedule, the station co-hosted a Cruel Sea gig at Belongil Fields and doubled the size of the shingled shed.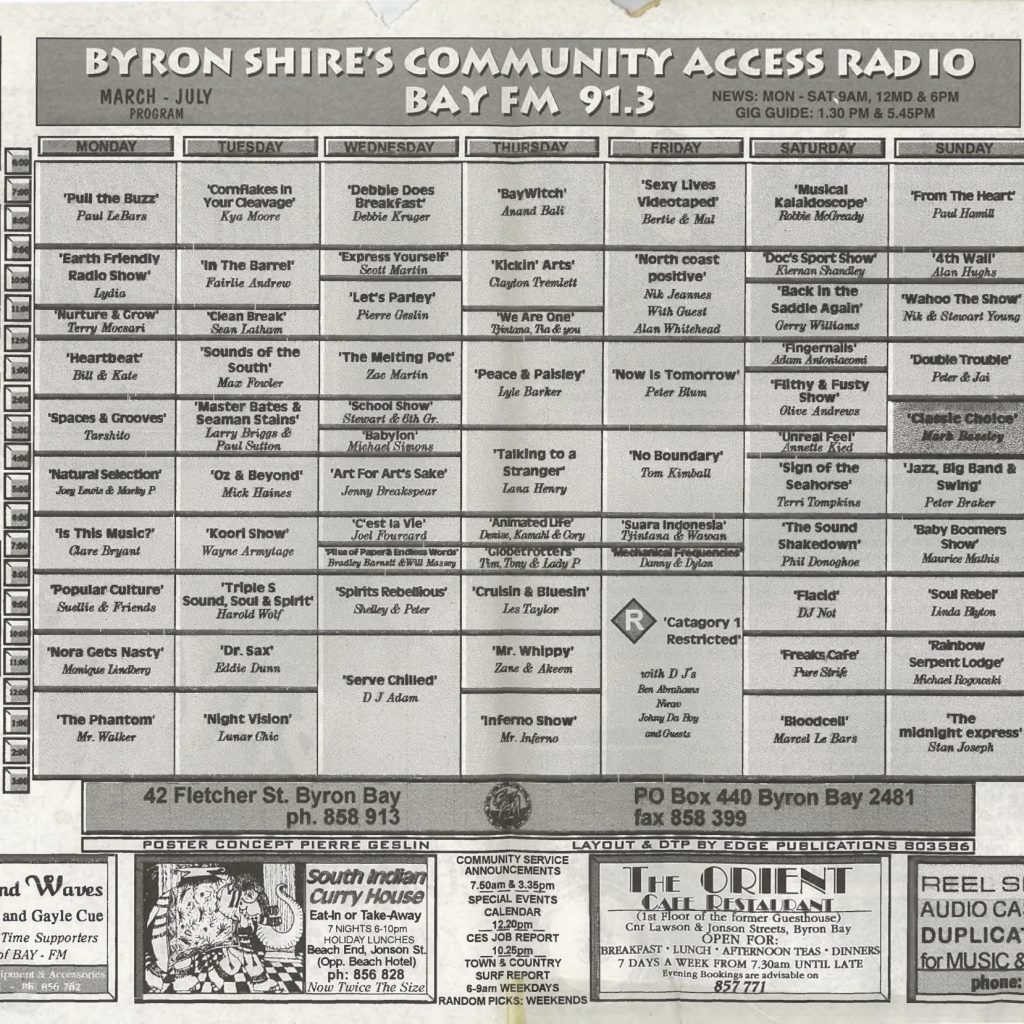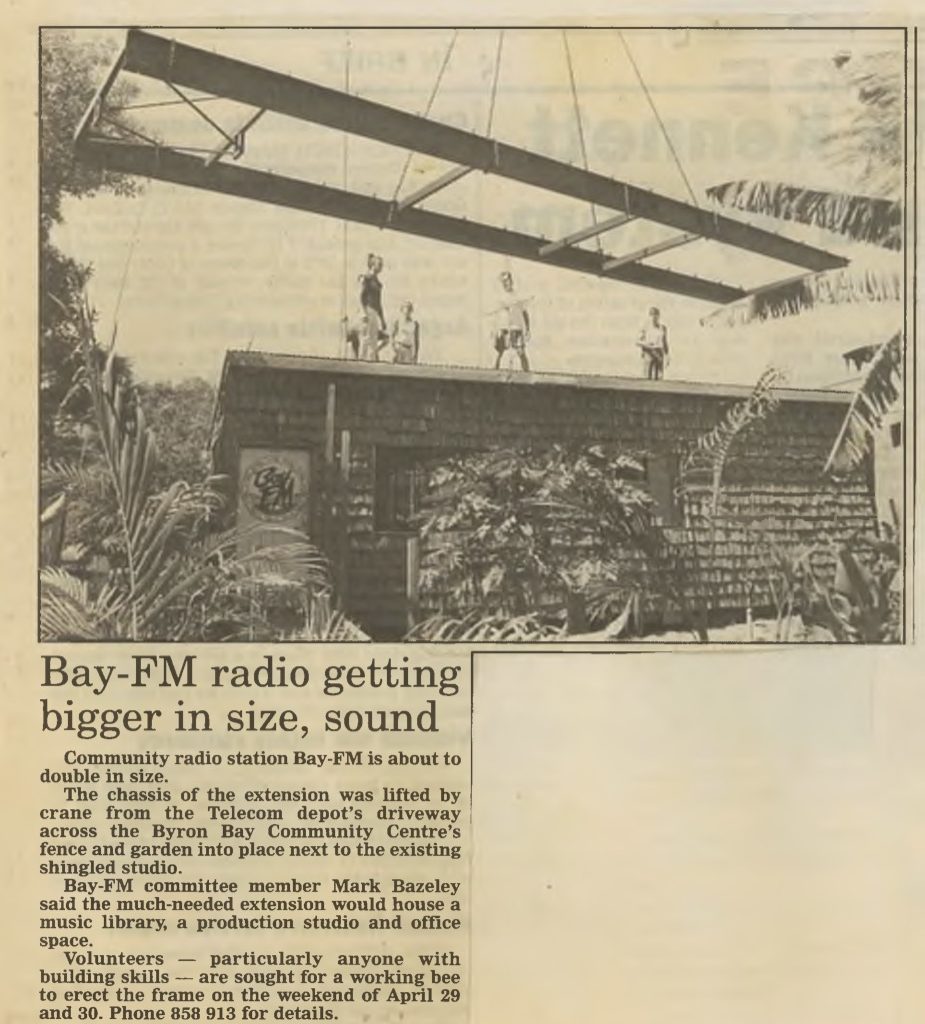 1996
BayFM wins the Community Broadcasting Association of Australia (CBAA) Special Music Award for Green Band Aid, a live benefit concert held at Thursday Plantation. Produced by Sean Latham, Don Blake, Adam Pippen. The concert featured Peter Garrett, Grace Knight, Paul Kelly, Tiddas, Kev Carmody and local performers, staged to raise funds for the North East Forest Alliance to help local film maker David Bradbury complete his Loggerheads, a documentary on the logging controversy.
Our first National Award……with many more to come.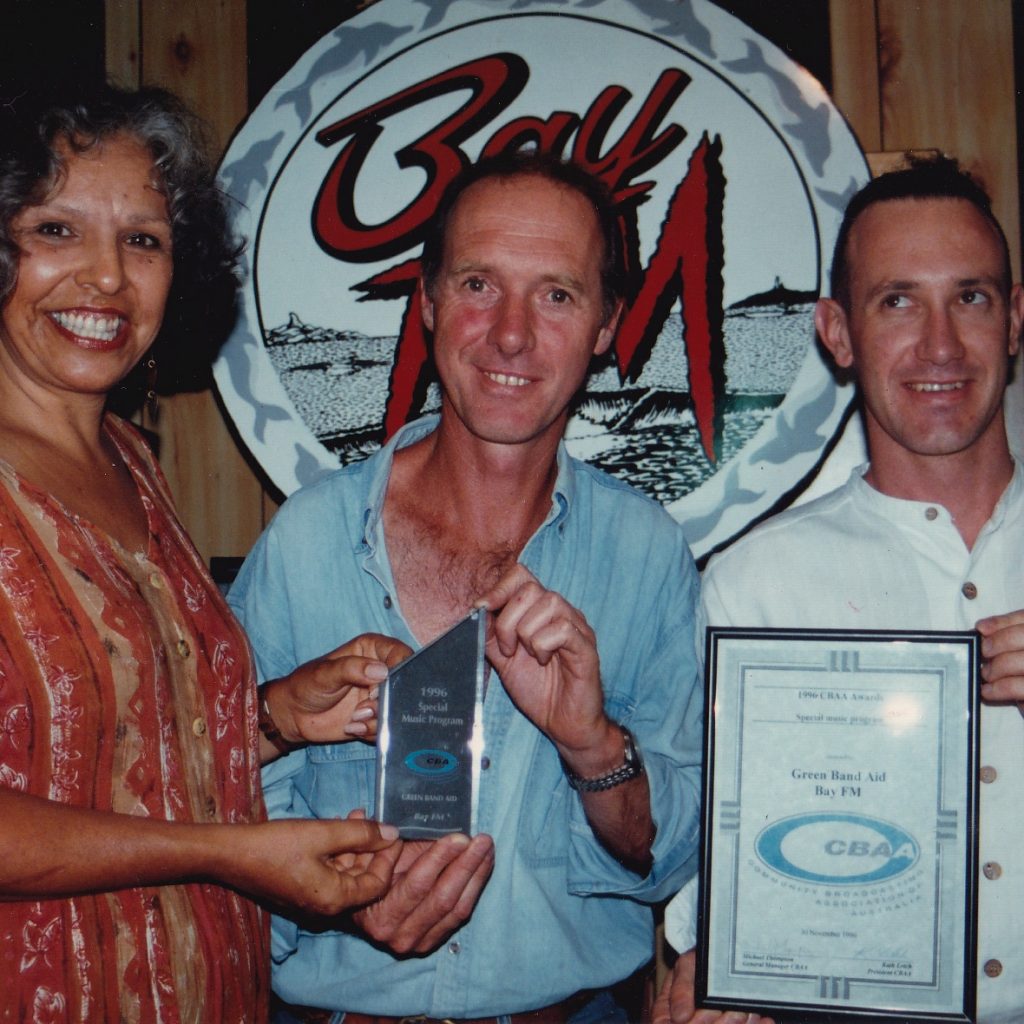 1997
BayFM continues to fundraise for a back up transmitter and back up studio link and it's locals like Brett Munro of Heart n Soul Surfboards now Munro Surfboards who have helped us out over the years by donating Malibu boards to raise much needed funds.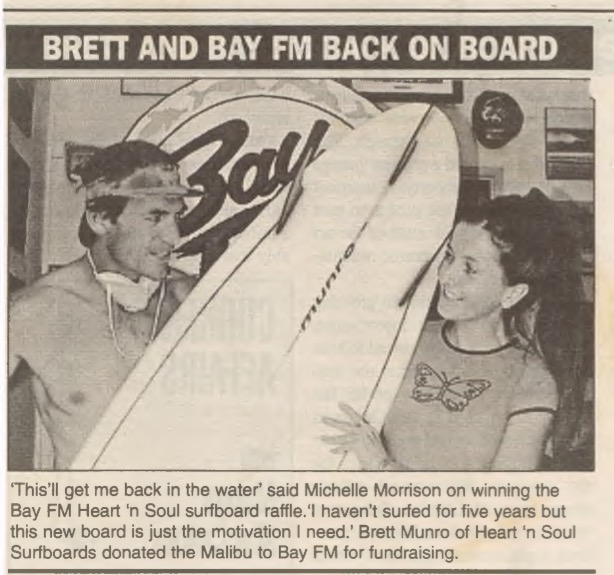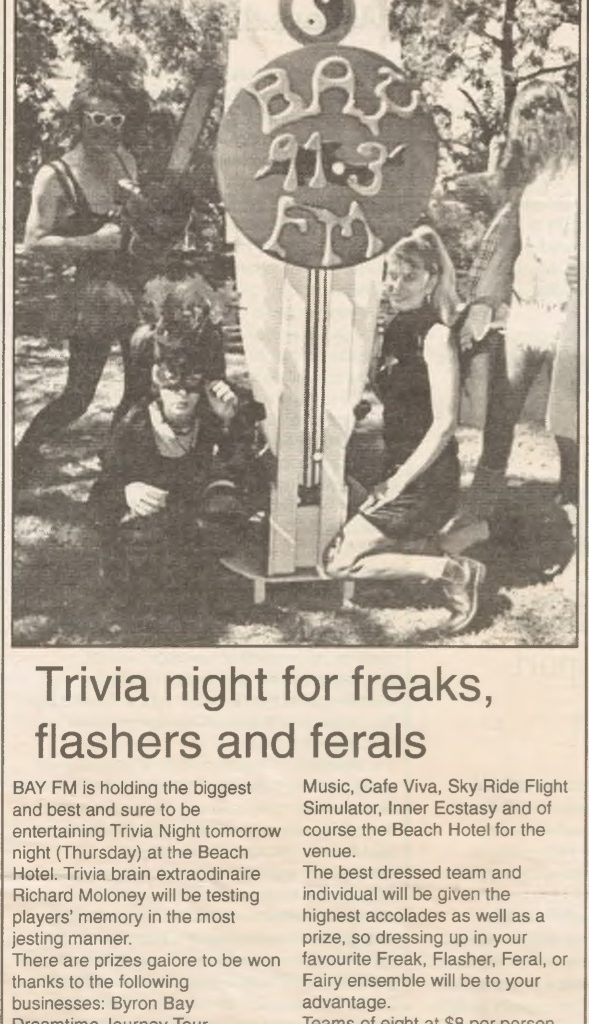 1998
BayFM wins its second CBAA Award for 'Dolphinicity', a three-part special produced by presenter Nyck Jeanes.
The Australian Broadcasting Association permits BayFM to increase the existing 500 watt transmission strength to 2000 watts. The station conducts a listener survey and finds the majority of listeners are aged 25 to 50.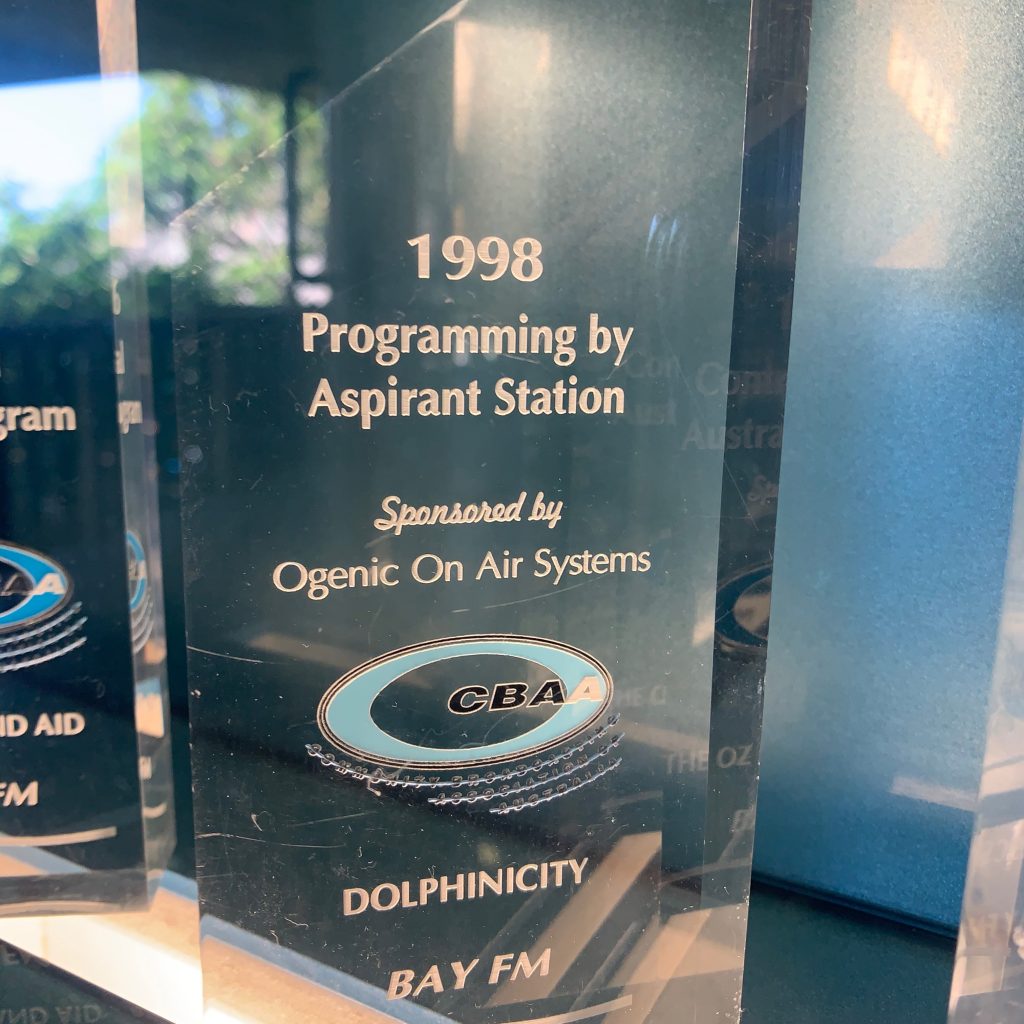 1999
BayFM wins third CBAA Award: Contribution to Australian Music for Steve Hadley's 'Oz Music Show'.
Ben Harper becomes BayFM Subscriber number 208.
And BayFM switches on the 2000 watt transmitter, improving signal to black spots in Byron and beyond.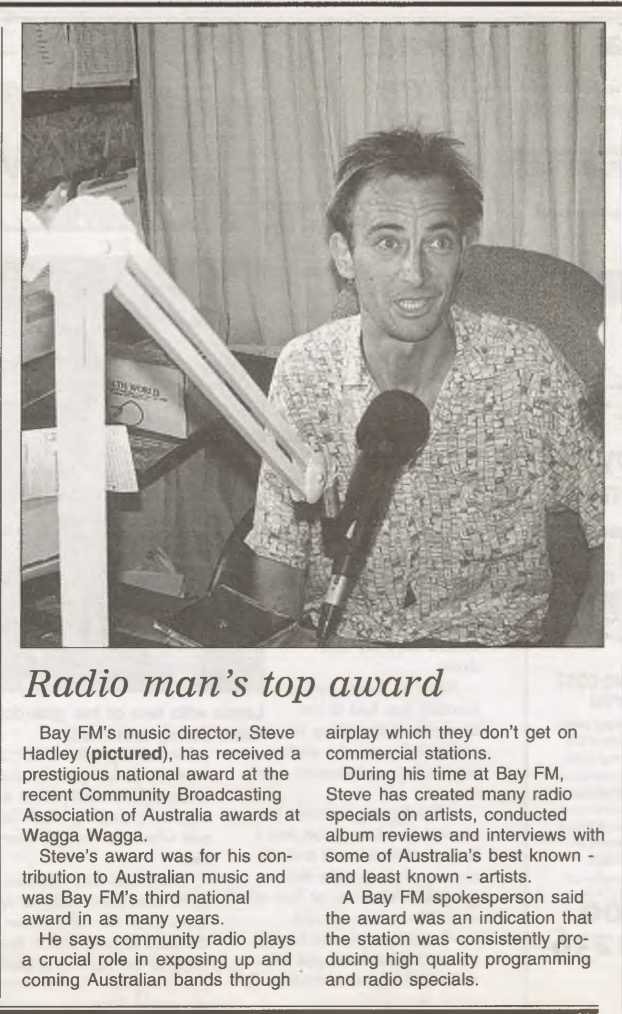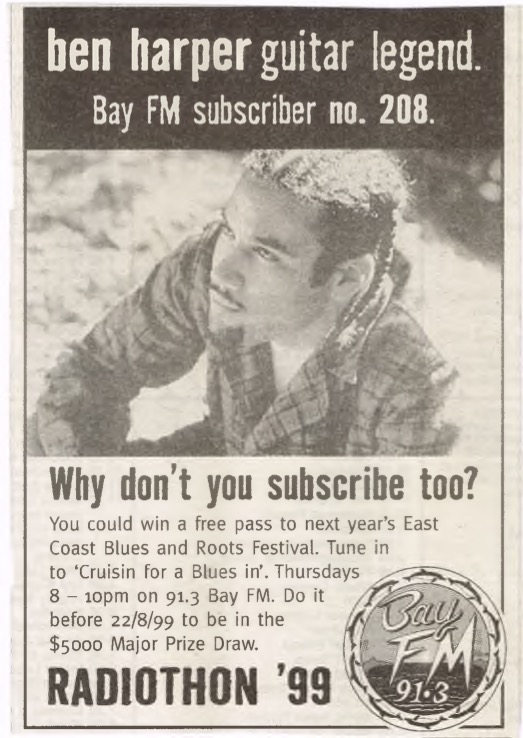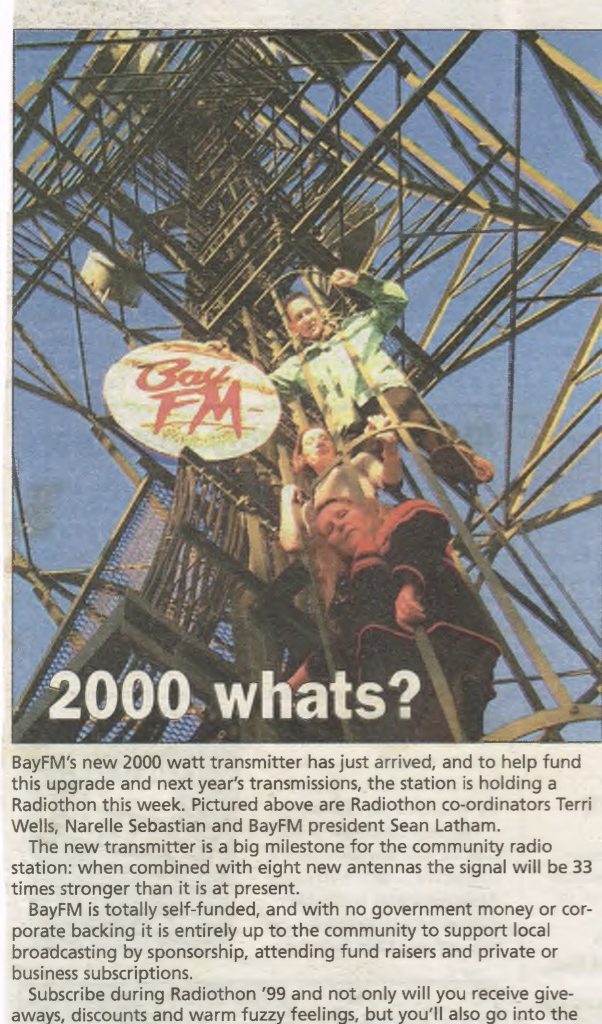 2000
As BayFM entered the new millennia, National Party and Federal Member for Richmond, Larry Anthony stepped in to pull a few strings to get the station back on air after our licence application for a category change got caught up in red tape. BayFM reports on a protest about the dangers of radio activity. And BayFM's Musical Kaleidoscope, Robbie McCready, is acknowledged and honoured for being the oldest radio broadcaster at 78 years young.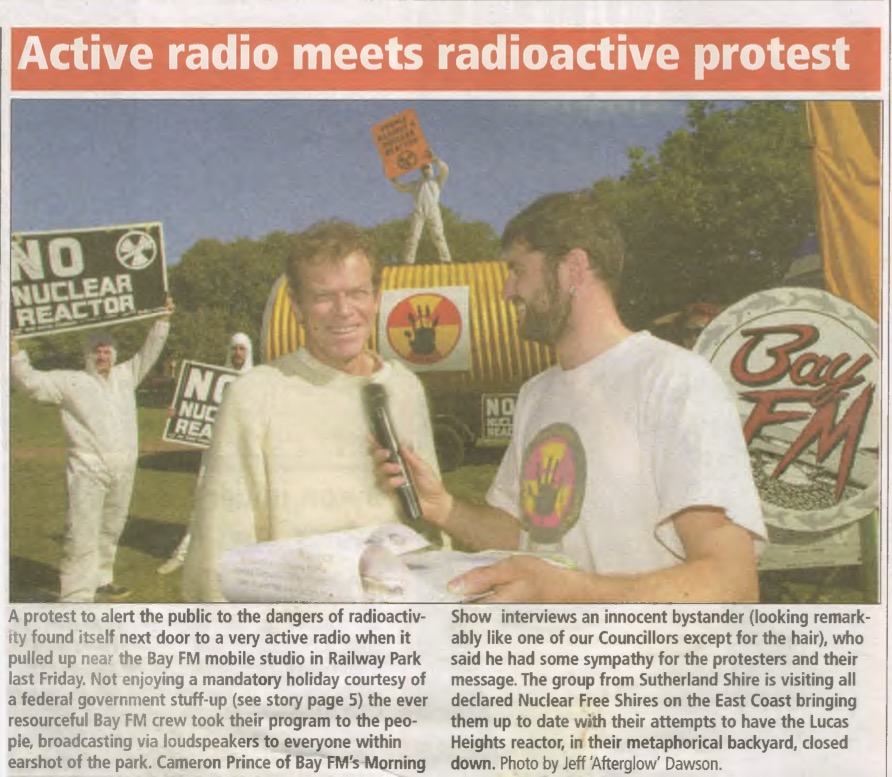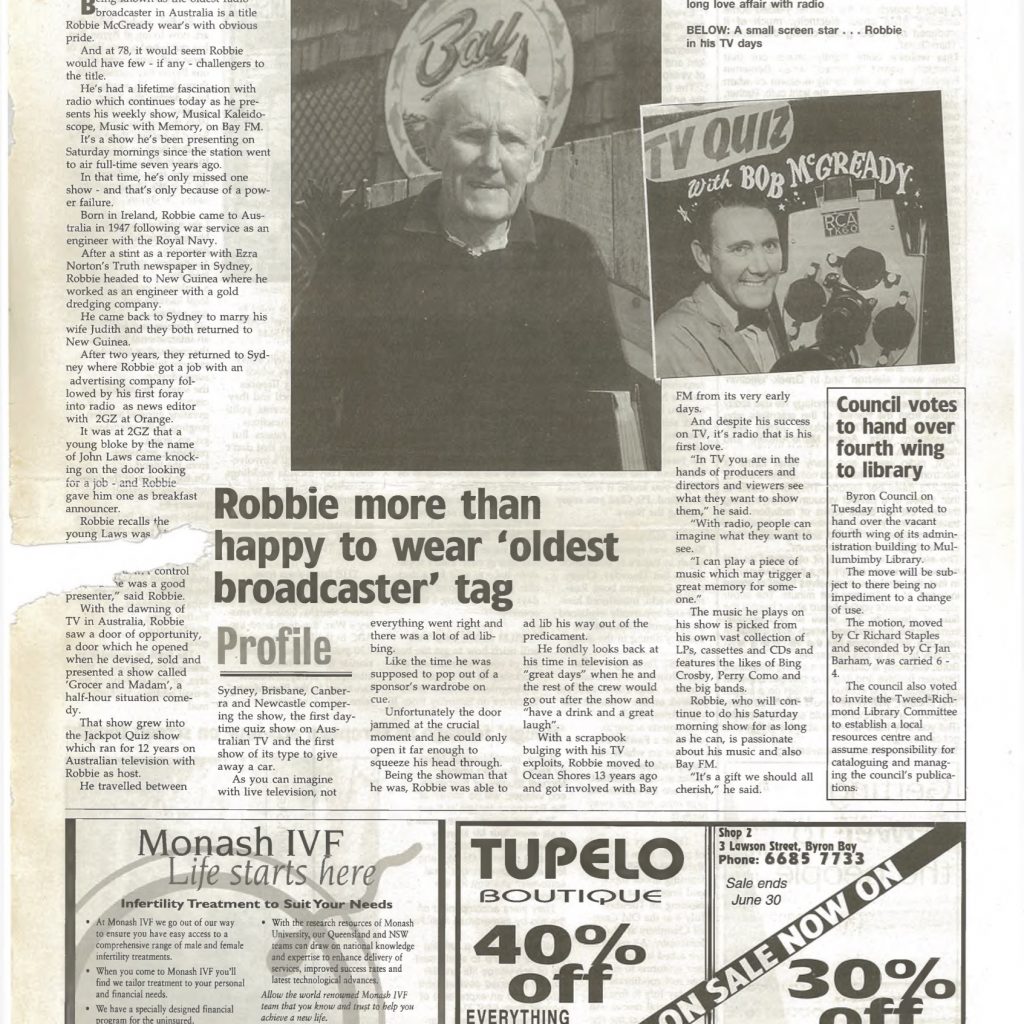 2001
A frequency change to 99.9 is imposed by the Australian Broadcasting Authority.
Kate Walton receives a $500 grant from the Noise Festival – a national youth media festival – to produce a five-part series on local youth bands.
The station moves to temporary studios in Woolworths Plaza while the Shingle Shack is relocated to Butler Street, land owned and donated 'use of' by Warren & Denise Simmons.
A new management structure is implemented. BayFM's 'Bible' (ie Administration Handbook is produced).
The East Coast Blues and Roots Festival is broadcast live to CBAA satellite; a national transmission by BayFM.
BayFM wins three CBAA Awards:
Most Innovative Marketing and Promotional Achievement Award for our Radiothon,
Excellence In Music Programming Award for 'Doofamentary',
Excellence in Spoken Word Programming Award for 'Iconoclasm' morning magazine show.
This was the first time that any one station took home three awards in one year.
On 20 June 2001 BayFM is finally awarded a permanent licence to broadcast as a Community Radio Station.
BayFM's New Year's Eve Lawson Street Dance Party is broadcast live to CBAA satellite. And Michael Franti becomes a BayFM Subscriber.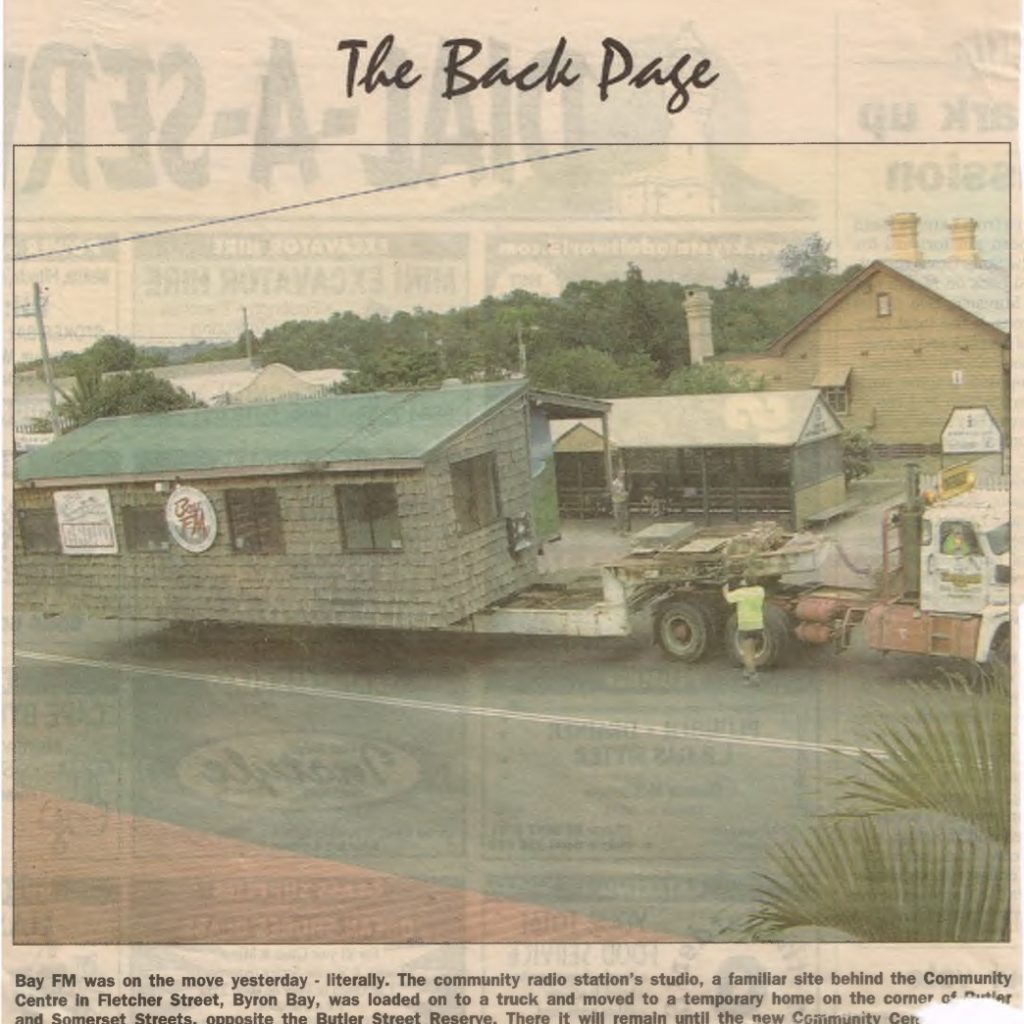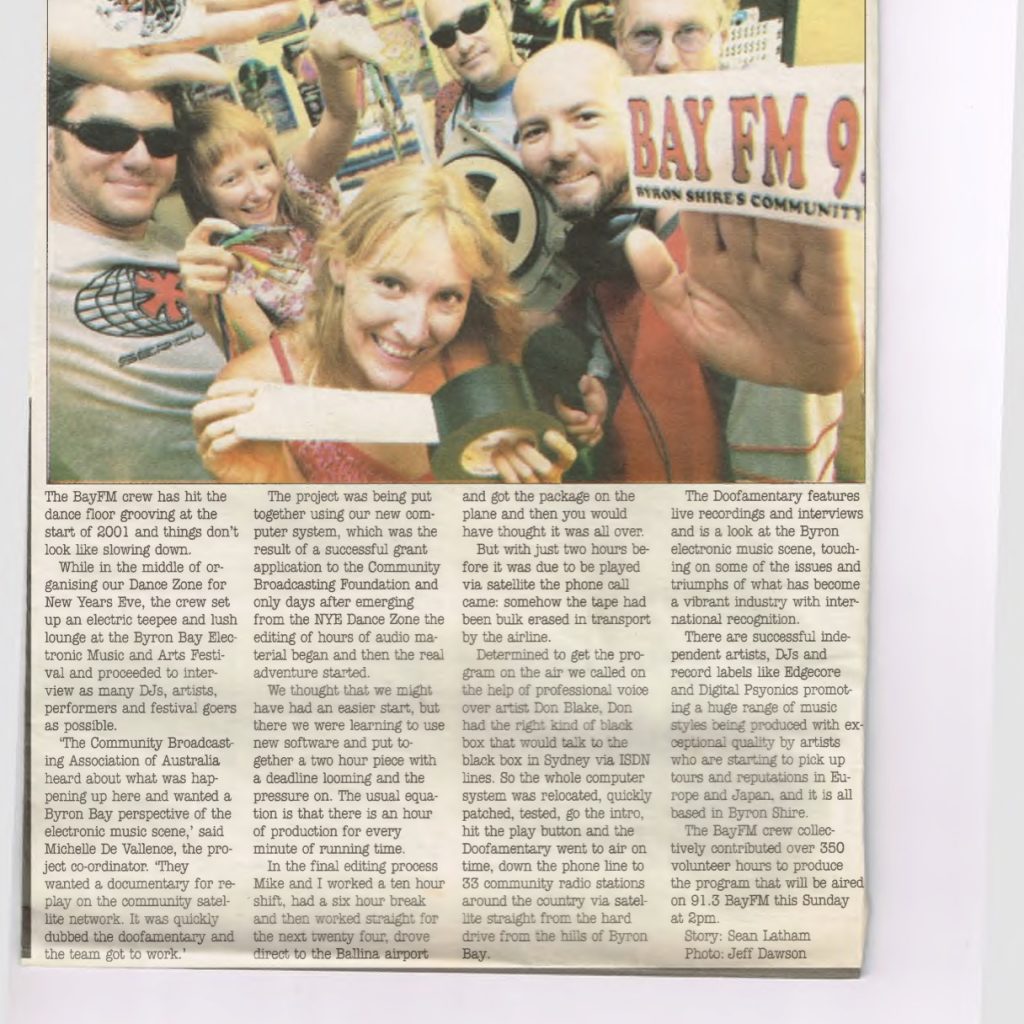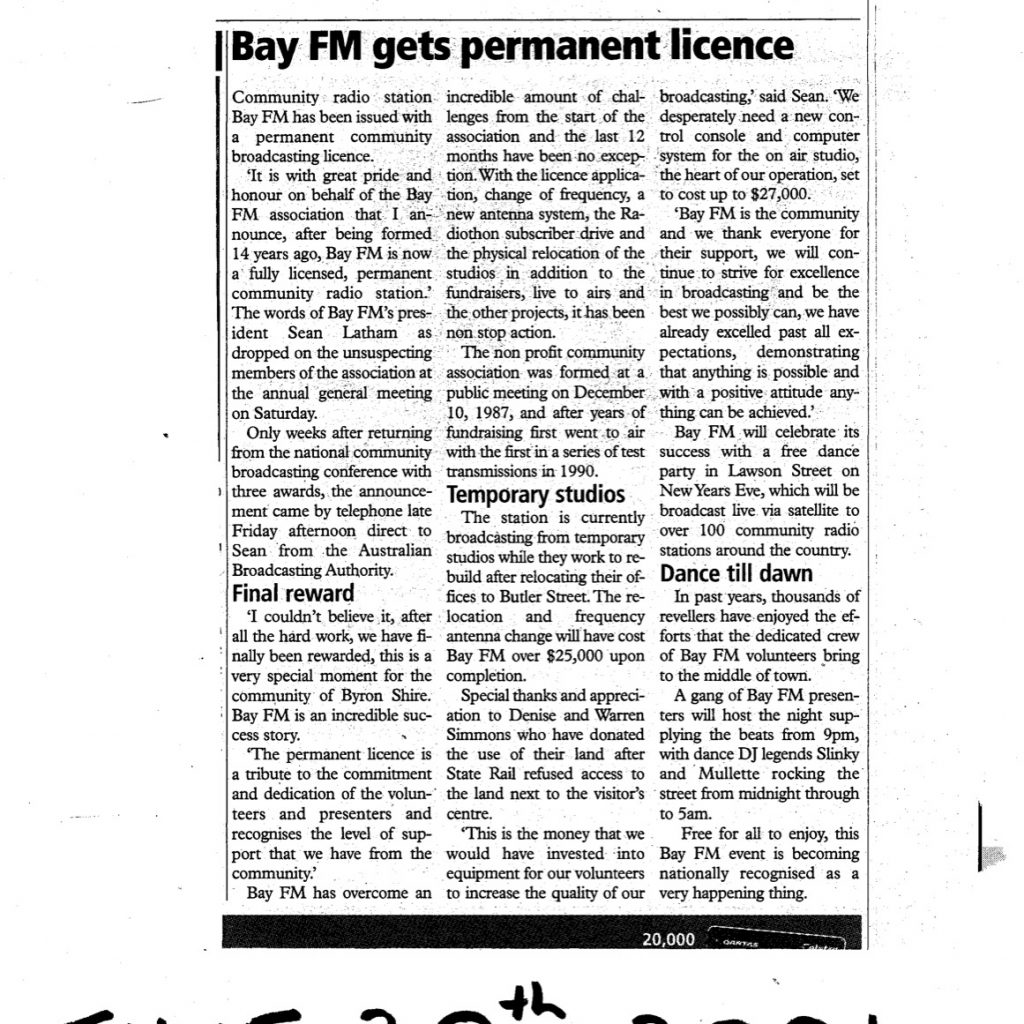 2002
BayFM relocates to its old building in the new location at Butler Street to await the completion of the new Byron Bay Community Centre and our studios within it. Has any station moved more often than BayFM?
A Promotions Team is created to raise funds to build studios and move into the Community Centre.
The Program Team is relaunched. The BayFM Program Team handbook and Presenters' handbook are published. The Presenters' Mentor System is introduced. The Music Department is restructured.
BayFM has now trained more than 80 presenters and has nearly 1,000 subscribers.
BayFM brings home two more CBAA Awards:
Best Oral History Program for '100 Years of Light' about our lighthouse. Produced by Oliver McElligott and Mesha Sendyk.
Can't Get out of the Car Award for 'The Shakedown Introduction'. Produced by Terrie Wells, Sean Latham and Michael Brereton.
In December, Michael Franti's concert in The Backroom is broadcast by BayFM 'Live in Your Lounge Room'.
BayFM's New Year's Eve Dance Party goes off as usual; this time raising funds for other community groups AND financing the completion of our new Fletcher Street studios.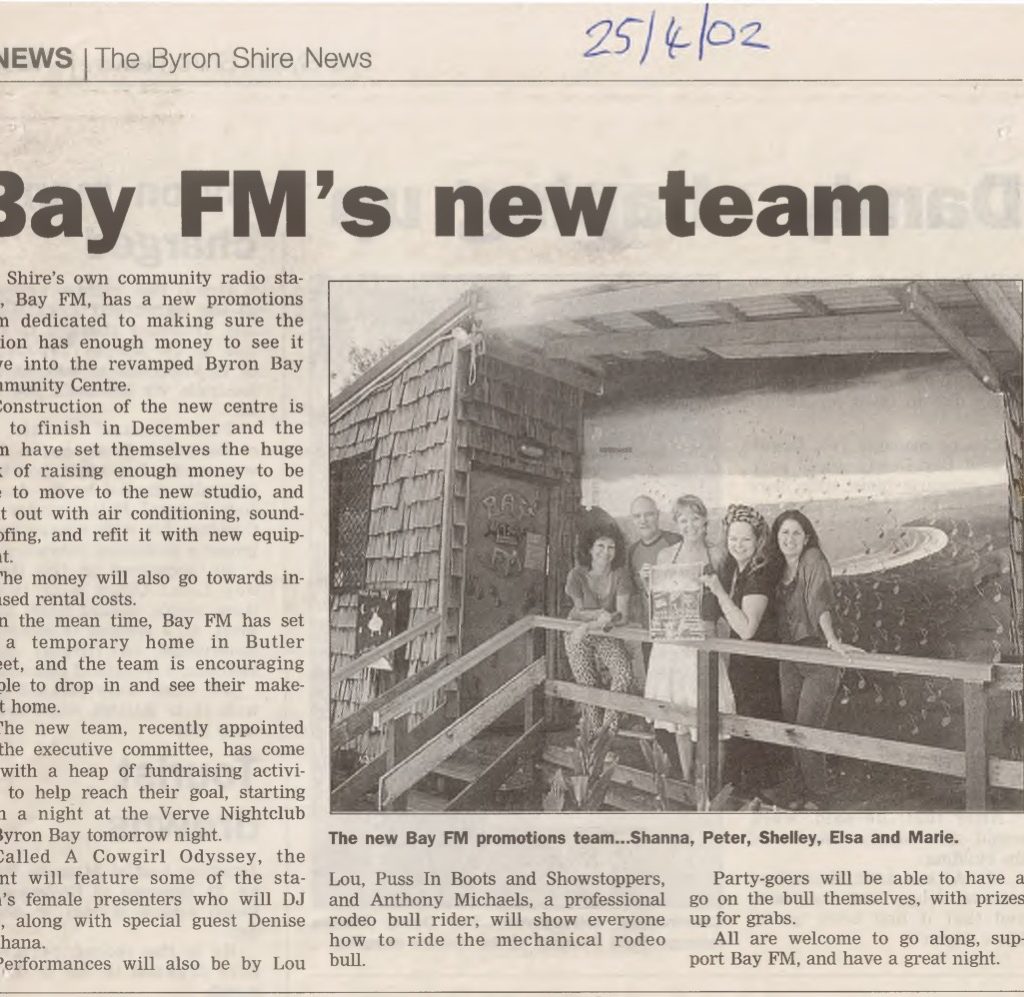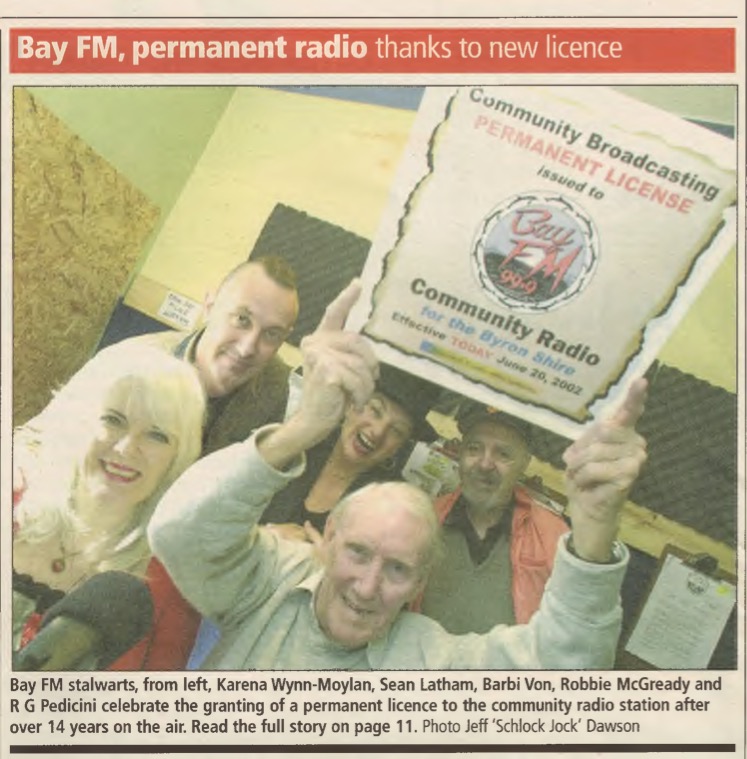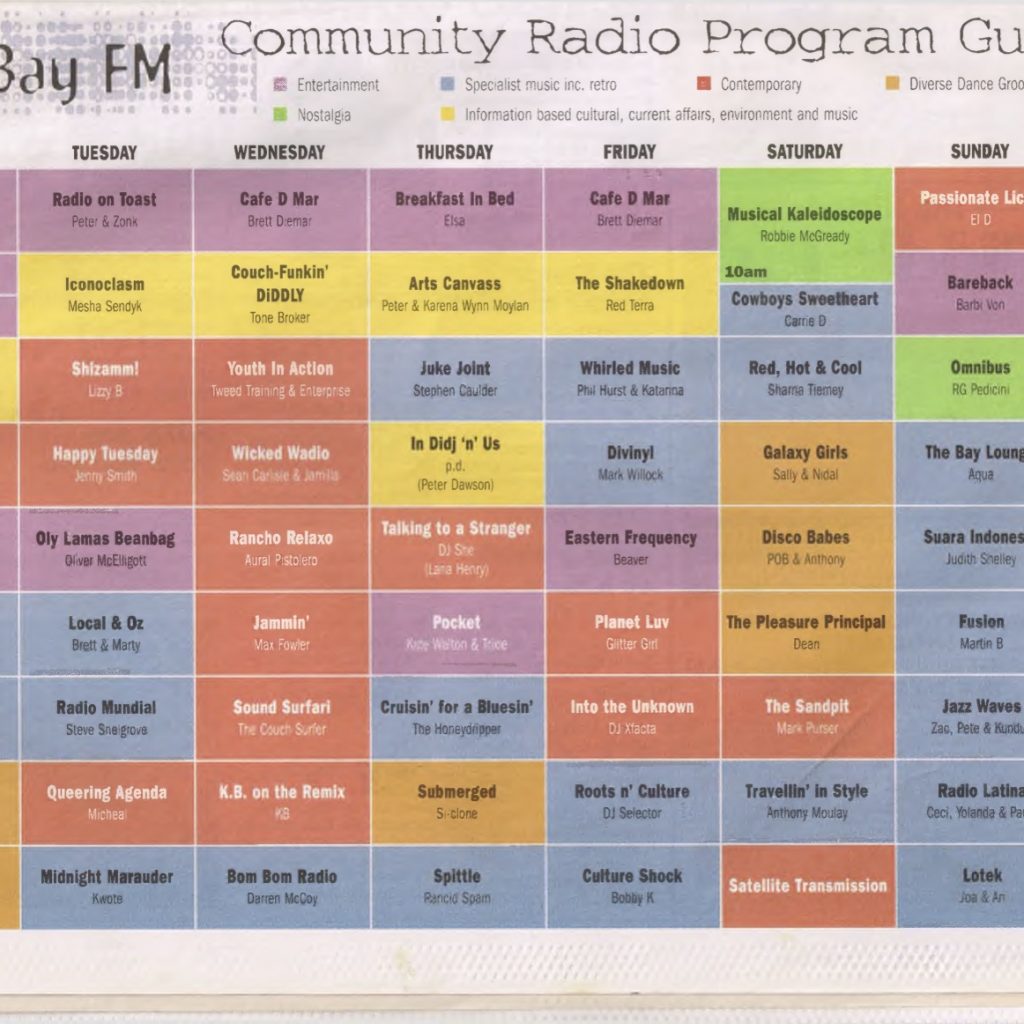 2003
'Volunteering BayFM' is launched; working with Volunteering Australia National Standards. A Volunteer handbook is produced. BayFM now has 120 active Volunteers, 205 active Members and 1,062 Subscribers. Wow, we'd love to get back to those numbers!
March 2003: Sean Latham steps down from eight-year presidency.
The CBAA Annual Conference is held on the Gold Coast and BayFM subsidises the attendance of 20 volunteers, creating a strong presence for the station. We're still bringing home the awards:
Can't Get out of the Car Award 'Tall Hairy Guy, P.I.' by Joint Production Crew. Produced by Oliver McElligott, Al Crombie and Colin Delaney.
Highly Commended Innovative place/subject for an Outside Broadcast: 'Live in your Lounge Room'…..the Michael Franti Concert from the Backroom. Producers: Terrie Wells, Lana Henry, Sean Latham, Michael Brereton, Trinity Malpress, John McCubbray, Danny Salfield.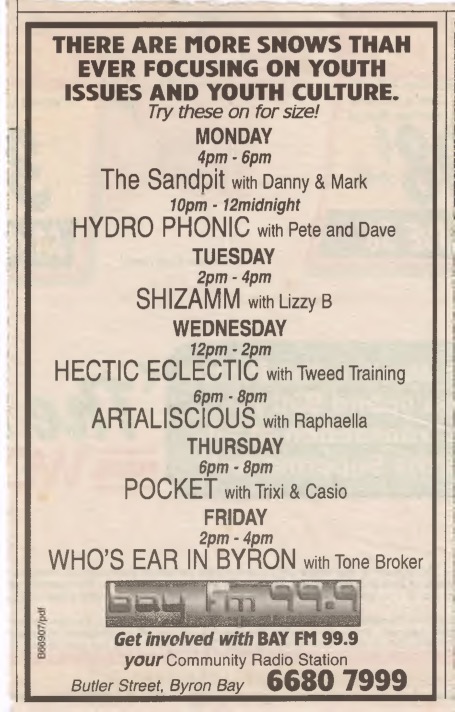 2004
Volunteers continue to hammer away at creating the new studios in the Byron Bay Community Centre and BayFM continues to broadcast interesting interviews and marvellous music.
The CBAA Annual Conference is again held on the Gold Coast and BayFM gains two Highly Commended recognitions:
Best Innovative New Segment Idea on Go Earthcare/Sounds of Nature', a connection to nature which increases an appreciation of the local environment. Producers: Ros Elliott & Oliver McElligott
Best Spoken Word on Wednesday mornings with Marie Cameron, 'Flotilla of Hope'. Producer: Marie Cameron.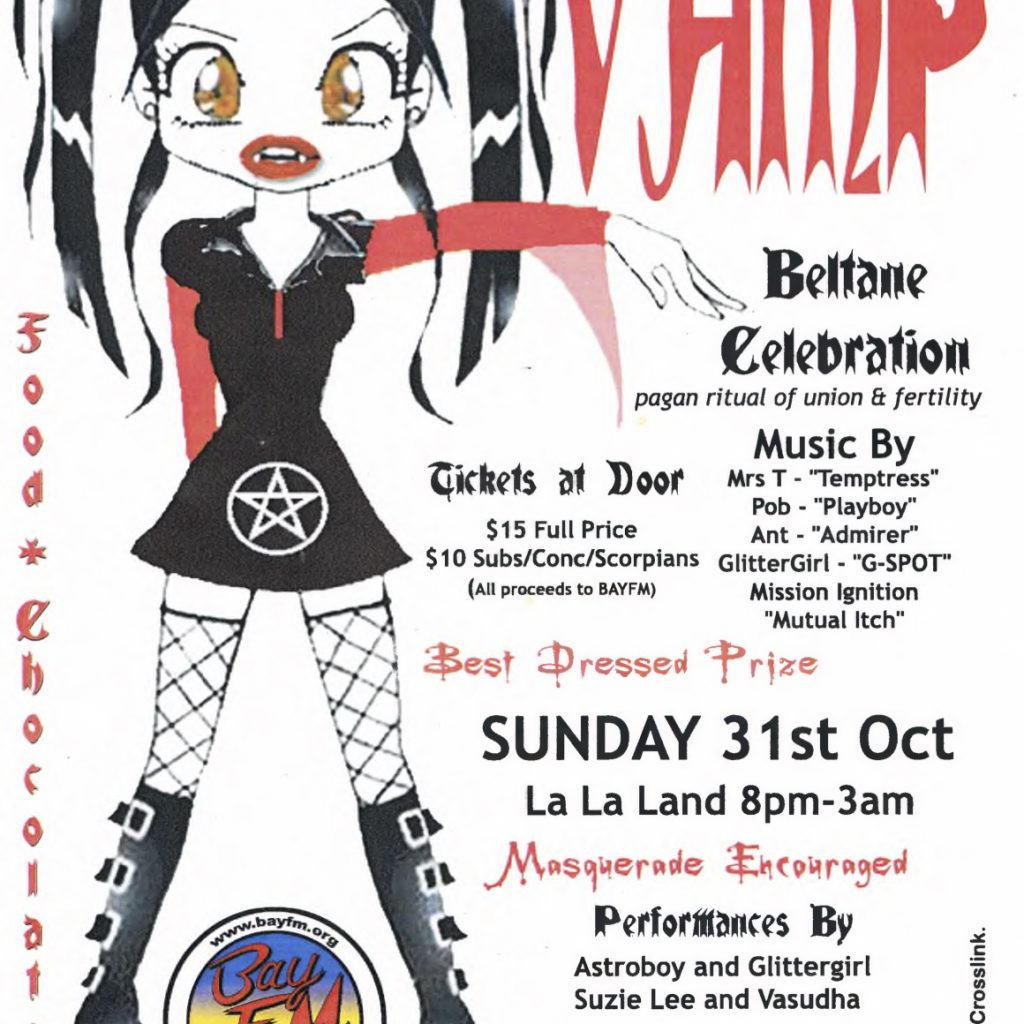 2005
The good work continues on and off-air. The CBAA Annual Conference awarded BayFM the Award for
Excellence in Spoken Word Programming for "The Freedom Rides 1965 and 2005" on Go Earthcare. Producers: Ros Elliott and Simon Baker.
2006
BayFM adds another 1000 watts, bringing our transmission to 3000 watts; increasing both our range and quality of signal.
On 21 June BayFM begins broadcasting from the new studios in the Byron Bay Community Centre. Four years in the making, the state-of-the-art studios are opened by Byron Shire Mayor, Jan Barham, Manager of the CBAA, Barry Melville, and the chanting of the Gyuto Monks. A tribute to the dedication of project manager, Sean Latham and his team, the new premises show what can be done with a strong vision, plenty of volunteer hours and community support.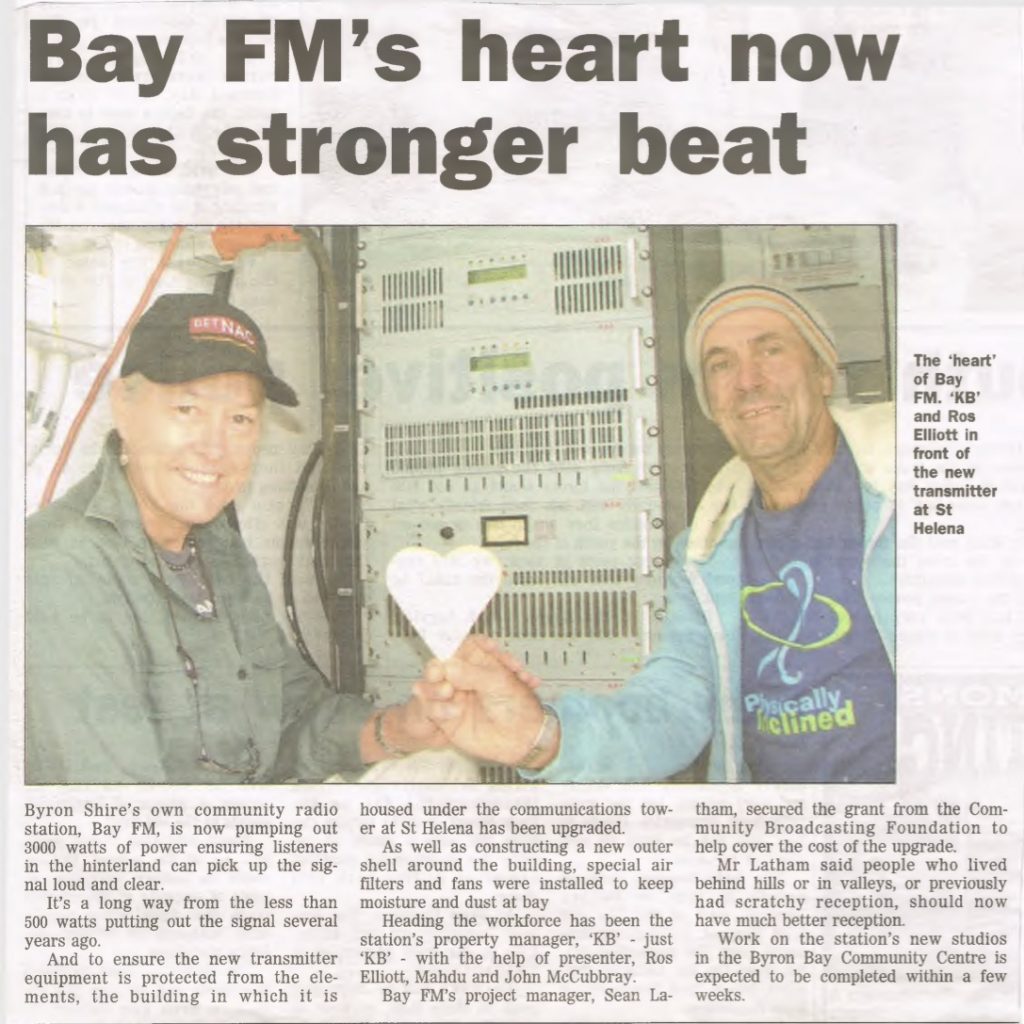 2007
The second studio becomes operational. Accredited training is offered to presenters.
BayFM's licence is renewed for another five years.
In August, our antenna is struck by lightening and transmission is reduced to 100-300 watts until January 2008. ☹
2008
The Antenna is replaced and transmission restored to 3000 watts. A five year Lease is renegotiated with the Byron Community Cultural Centre.
The sponsorship department is restructured, with an updated policy to reflect community values and prohibiting corporate jingles.
Computerised On Air Assist is made operational, with virtual carts and running sheets for Presenter's shows.
A policy is introduced that all paid positions must be advertised and interviewed by a selection panel.
The traditional 4 week on-air Radiothon is concentrated into a 2 week on-air Annual Subscriber Drive.
The Tax Deductible Charitable Status application process begins, awaiting the Minister's stamp of approval.
Thanks to the Community Broadcasting Foundation, BayFM receives $56,000 in a wide range of grants.
Here are some photos of the BayFM peeps of 2008…
Stand by for 2009 & Beyond