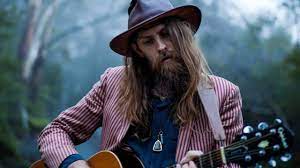 Karl S Williams released his second album after seven challenging years of fine tuning his craft and songwriting skills. 'Lifeblood' is the astonishing result, from Karl S Williams, a record fuelled by the frustrations of a man with a fire in his belly that won't be easily quelled.
Karl's 2013 debut 'Heartwood' was a stunning album which received some serious accolades from the likes of Bluesfest Director, Peter Noble.
"Karl S Williams, for me, has delievered an astonishing debut that as huge future written all over it. I love discovering artists who have that special IT – the Zeitgeist – watch out for Karl!" ­– Peter Noble, Festival Director – Byron Bay Bluesfest.
If 'Heartwood' was an introspective journey into a man's soul, then Karl S Williams gave lifeblood as a follow up album. 'Lifeblood' is the exasperated outpouring of a man troubled by a world that is collapsing around him.
Karl's music is steeped in blue, roots, folk and Americanaa inspired by the swamp water of the cane country of Northern NSW, the landscape of his childhood. Not short of talent, Karl is singer songwriter, multi-instrumentalist, visual artist and poet.
In this interview with Ange Kent from BayFM's Northern Rivers Music Box, Karl bares his passion for soulful music and creative persona.
Ange Kent hosts a local music show, Northern Rivers Music Box' on BayFM on Fridays from 2-4pm.
Click here for playlists and to playback shows on demand.