Sadly this event was cancelled but we thought you'd still like to read about some of the amazing potters in our community.
Love the feel and look of a handmade mug or vase? Then get on the 2021 Mud Trail this weekend. This free self-guided event features the work of seventeen local potters and ceramicists, many of whom are holding talks and demonstrations in their atmospheric studios.
From the crystalline glazes on Peter Smith's pots at Round Mountain Pottery at Cabarita Beach, to Amanda Bromfield's quirky koala pots at Lennox Ceramics, the Mud Trail takes you inside the highly personal worlds of some of the best craftspeople in the region.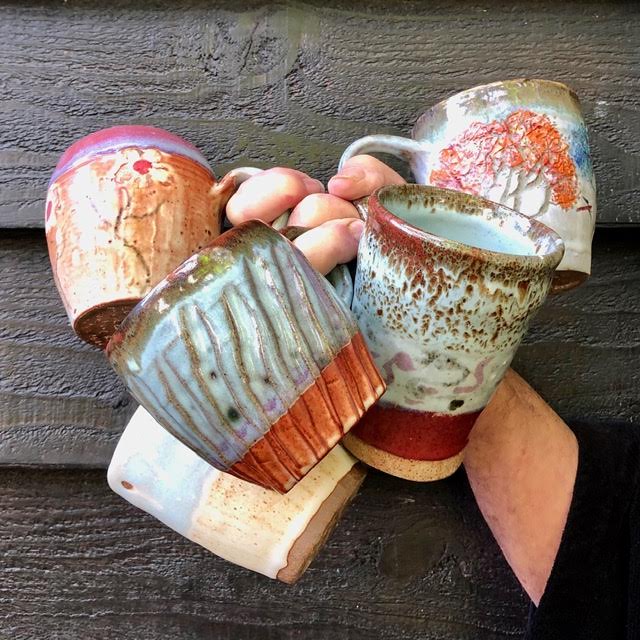 Up in the hills at Goonengerry, Amiten O'Keeffe gathers fallen timber and fires in a wood kiln to honour the elements of Fire, Earth, Air and Water.
Nearby Lucy Phillips makes pots on the wheel and from clay slabs reflecting "the beauty and awkward imperfections of being human".
Mullumbimby hosts a fabulous cluster of six creatives celebrating their own unique take on the sensation of ceramics. Throwing, slip-casting and hand building using coils of stoneware and porcelain clay is Tali Cohen-Flantz's methodology and you will be able to decorate one of her plates in her studio Keramika. Jacqui Sosnowki will demonstrate Obvara, the 12th-century Baltic surface treatment that uses only natural ingredients at Sos Ceramics at 10am on both Saturday 14 and Sunday 15. Bookings are essential for these $25 events on 0411 424 031.
Free herbal tea will be served at Rainforest Ceramics, the Possum Creek studio of the legendary Richard Jones whose range includes reduction-fired cups, bowls, plates and sculptures. You will have to make a prior booking for this pit stop too (6687 1900) but if you do purchase a piece, 20% of all proceeds will be donated to the Rainforest Trust which works to save forests globally.
North Coast Mud Trail – August 14 & 15 www.northcoastmudtrail.com.