Enova Energy has teamed up with Good Car Co. to offer the very first Electric Vehicle Bulk-Buy.
Northern Rivers locals, locked out of buying an electric vehicle because of cost, can now access more affordable EVs through Enova Community Energy's bulk-buy in partnership with the Good Car Co.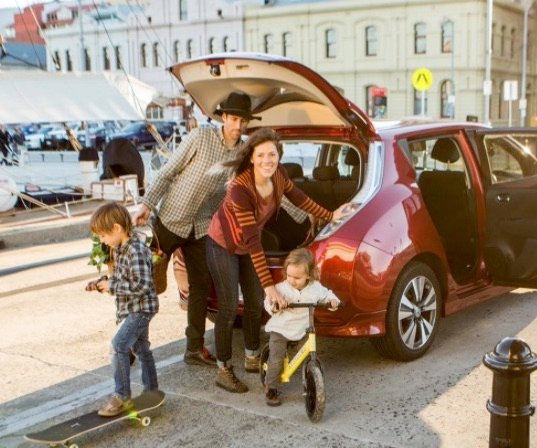 The bulk-buy itself will open for the purchasing of quality-checked second-hand Nissan Leaf vehicles from 6 October 2021. Northern Rivers locals can join the no obligation bulk-buy program.
"Transport is Australia's third-largest source of greenhouse gas emissions and cars are responsible for roughly half of these emissions. Transitioning to EVs is a key piece of the climate action puzzle for Australian households however it's been too expensive for most until now," said Enova Community Energy CEO Felicity Stening.
"With rooftop solar proliferating across Australian rooftops, we also recognise it's a great time for solar households to maximise the value of their solar and charging an EV during the day instead of going to the petrol station to fill up on fossil fuels is a really great way to do that," said Felicity.
How does it work?
1. Register your interest in Enova's Bulk-Buy (there's no obligation to buy!).
2. Participants will receive a four-week program of weekly emails containing videos, webinars, information, opportunities to ask questions, Nissan Leaf test drive opportunities, and EV event invitations.
3. The Bulk-Buy itself opens on 6 October and runs until around mid-November. Participants can order an EV during the Bulk-Buy.
The Enova Bulk-Buy will offer:
Nissan AZEO Leaf (24kWh, and 30kWh),
Nissan Leaf ZE1 (40kWh and 62 kWh), and
Nissan eNV200 electric van (24kWH) in 2, 5 and 7 seater models.
Prices range from $17,000 – $55,000.