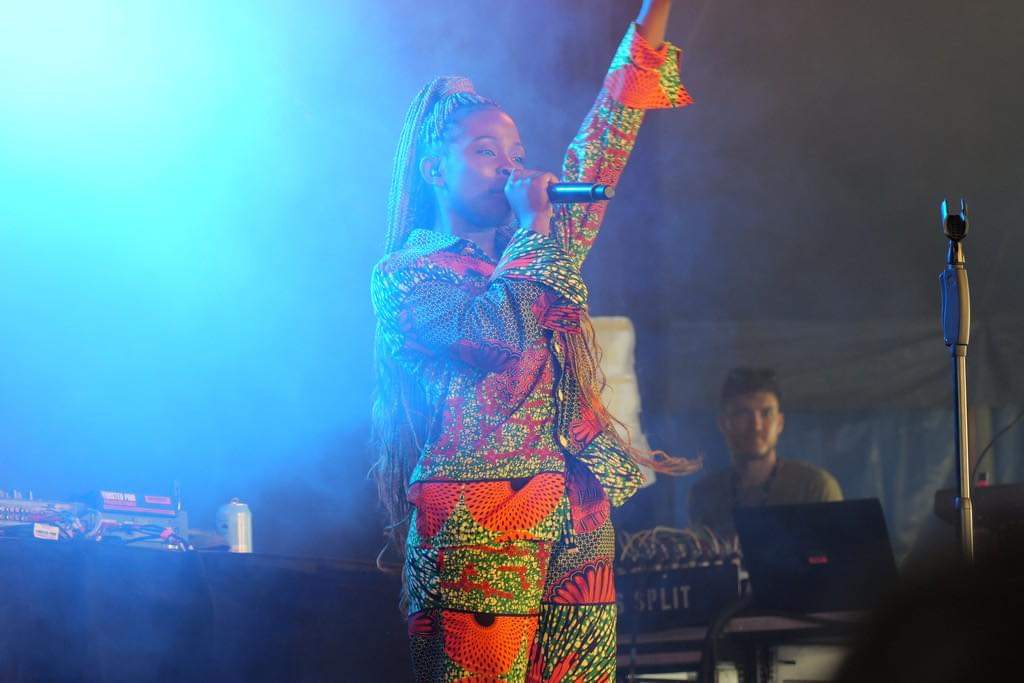 Elsy Wameyo, also known as ELSY, is a Kenyan-born Australian singer-songwriter, who kicked off Falls Festival 2022 on the 31st December 2022.
She was the first act at the Galaxy stage for the festival, christening the stage with powerful music, great lyricism and her proud Kenyan-Australian attitude. Setting the stage for what was to be a very diverse
Falls Festival 2022/2023.
Elsy Wameyo wore a bright orange and green African print two-piece. She claimed the stage
and sang in English, Swahili and Lu, with stand-out songs from her new EP 'Nilotic' like
'Sulwe' which means Star, and 'River Nile'. She sang, rapped and harmonised to a highly
produced backing track that was spud by Kgomotso.
As the audience, I felt part of the performance, a spectator but a contributor to the
performance. Elsy invited us into the experience, we were asked to be involved through
waving our hands, singing along to the song 'Promise' and partaking in call-and-response
singing. She invited us all to be Kenyan and learn a Kenyan term 'ey uuuwww, which is
'sung from the belly' and featured in the song 'Sulwe'. The whole crowd harmonised 'done
done' with her in the song 'Promise' and we were proudly called the best audience she has
heard.
The performance also got deep with lots of Elsy's music speaking about inequality and the
Black Lives Matter movement. Before she performed her song 'Outcast' she spoke about the
importance of this song in her growth and how it has supported her to love and fell pride in
her cultural heritage.
I felt as though she was looking at me, the whole experience was personal and public at the
same time. The set ended with her song 'River Nile' from her newly released EP Niolotic.
Elsy Waneyo is someone who is authentic, powerful, beautiful and someone you need to
listen to!
Story by BayFM's Lealah Shostak who attended Falls Festival Byron Bay as a reviewer for BayFM 99.9. You can listen to Leahlah's show Viagar Con Migo – Come Travel with Me on Tuesday's 12pm and Wednesday's 7pm and YAC Radio with Max Lawson on Thursday's 3pm.
Photo by Rudiger Wasser who attended Falls Festival Byron Bay as a photographer for BayFM 99.9.